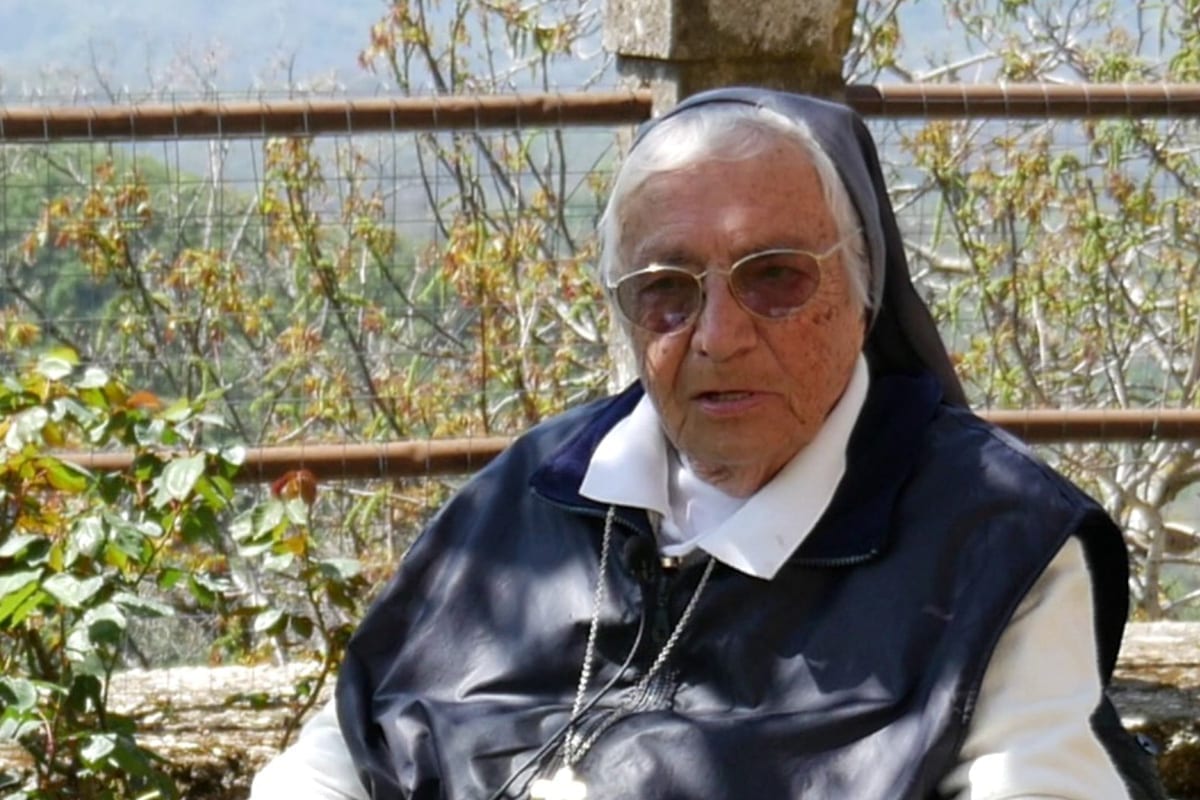 Subiaco (Italy). During the night of 20 February 2020, at St. Biagio House of Prayer in Subiaco (RM) the Lord of Life introduced into eternal life our dearest Sr. Maria Pia Giudici, FMA of St. John Bosco Province (IRO).
She was born in Viggiù (Varese) on September 30, 1922. After spending her childhood in Viggiù, she moved with her father and mother to Milan, where she studied first at the Ursuline Sisters of St. Carlo and then at the Salesian Sisters of Don Bosco, in the Institute of the Daughters of Mary Help of Christians.
Despite living in Milan and willingly attending university courses, Maria Pia was always fond of the pre-Alpine Viggiu world. In the summer she traveled by bicycle with her friends of the same world open to joy and faithful to values. It was during one of these foolhardy  bicycle races that she sensed that her heart was created for Infinite Love.
"My vocation was born like this.  I was racing on bicycle like a mad woman, I really loved it.  I was nineteen years old and I remember a very beautiful straight stretch where I felt the thrill of infinity and the joy of feeling enveloped by so much air. … ". Video
Graduated in Letters, she taught in Milan and Lecco. She loved the young girls very much and was very much loved in return. Later, she continued her studies in Social Communications, organizing Cineforums with groups of students and young graduates. She then adhered to another call from God: to offer young people and couples the opportunity to answer the big existential questions: Where do I come from, What am I doing in the world, Where am I going … that is possible for those who know how to be in daily contact with the Word of God.
As an author, she responded to these questions, publishing numerous books that have also been translated into many languages.
Sr. Maria Pia Giudici is a Teacher of the Spirit and has always chosen the greatest Love, that which God offers to every human being, giving them the freedom to decide for a life totally given over to Him.
IT IS TIME TO LOVE
There is a time to be born and a time to die. There is a time of splendid sun and a time of clouds and storm. It is always time to love.
There is a time to grow and a time to decrease; a time to sow and a time to reap. It is always time to love.
There is a time of easy roads and a time of winding paths; there is a time when the rose blossoms and a time when thorns prick. It is always time to love.
There is a time of joy and smiles and a time of pain and hardness. There is a time of benevolent encounters and a time of fearful confrontations. It is always time to love.
There is a time of the slothful apple tree that does not even offer you a fruit; and a time for the almond tree to blossom, prophecy of gladness for your heart. It is always time to love.
There is a time and again a time, and you do not know until when but the sun in you does not fail if you learn with Christ, in Christ, to love. It is always time to love.
Knowing that God has always loved you first is your continuous rebirth. Yes, living is beautiful: a song erupts in your heart. From always and forever God is loving you: today tomorrow after. He asks you for a single life commitment, you too love first: wife, husband, children, your parents, your sisters and brothers, the poor and the rich.  The good person and the sinner.  It is always time to love.
By now you have a heart that sings: from always and for always God infinitely loves you.  Night and day, in the rigid winter or in the  rolling  of burning summers, He teaches you one thing, and it is the only real salvation: always and forever it is time to love.
Sr. Maria Pia Giudici, FMA