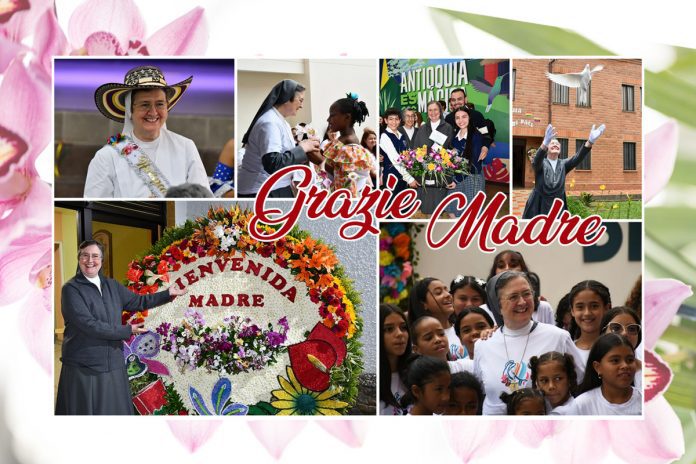 Rome (Italy). On 26 April 2023 in Bogotá, Colombia, the Feast of World Gratitude Day is celebrated, animated by the four Provinces of Our Lady of the Rosary of Chiquinquirá (CBC), Our Lady of the Snow (CBN), Mary Help of Christians (CMA), St. Mary Mazzarello (CMM). Feast Program
"With Mary we generate a culture of peace" is the theme born from the reflection on the time we are living; in fact, more than thirty wars are underway in the world and peace is threatened in many ways. The theme is illuminated by the word of God "Blessed are the peacemakers, for they will be called children of God" (Mt 5:9) and it is an explicit invitation not to tire of building peace, of generating a culture of peace.
During the Visit to Colombia on the occasion of the Feast, Mother made gestures of peace and communion, inviting us to be promoters of peace. "Once again, we will have the opportunity to give thanks to God for the Life that He gives us in abundance and for our Mother, Sr. Chiara Cazzuola, who leads the Institute with so much love and generous dedication," said Sr. María del Rosario García Ribas in the Letter in view of the Feast.
Thank you, Mother Chiara for your peaceful presence and for your attentiveness to all realities and situations.
Thank you, Mother Chiara for your contagious joy that makes one feel at home.
Thank you, Mother Chiara for your gestures of tenderness, expressions of motherhood and closeness.
KEEP WRITING YOUR THANKS TO  MOTHER below, in the RESPONSE box