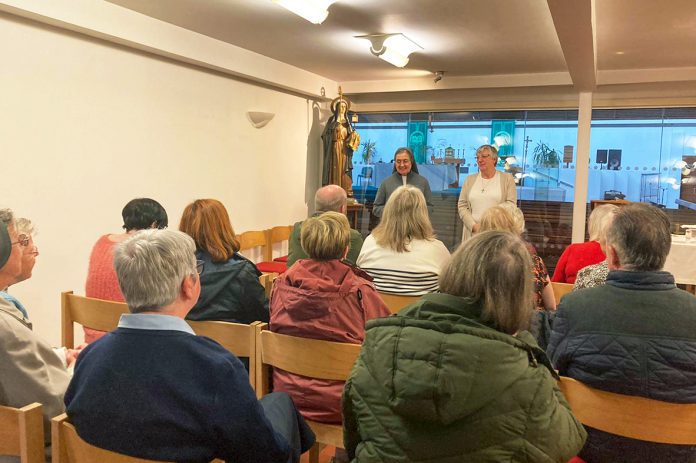 Liverpool (Great Britain). Dal 23 ottobre al 2 novembre 2022, la Superiora Generale delle Figlie di Maria Ausiliatrice, Madre Chiara Cazzuola, ha fatto la Visita all'Ispettoria S. Tommaso da Canterbury (GBR) della Gran Bretagna.
On 23 October, upon her arrival at Manchester airport in England, Mother was welcomed by the provincial, Sr. Pauline Clark and, then by the Daughters of Mary Help of Christians of the Provincial House of Blundellsands, in Liverpool.  After a time of Eucharistic adoration, Mother Chiara gave the Good Night, and spoke of her entrustment to Our Lady, "the true superior of the institute", at the moment of her election as Mother, on 5 October 2021, and entrusted the GBR Province to Mary Help of Christians, especially in the days of the Visitation, transmitting to the FMA a strong sense of belonging to the Institute.
The following day, she met the Provincial Council and the Community Animators, and spoke to them on the theme "Authority as a service that generates life", giving space and encouraging dialogue and dedicating herself to conversations with the younger Sisters, the Councilors, and the Animators.
The GBR Province is made up of five communities, four in England and one in Scotland, where the Daughters of Mary Help of Christians are mainly engaged in teaching, catechesis, pastoral activities, collaborating with parishes and local organizations. They also animate the Associations of the Salesian Cooperators and of the VIDES volunteer service, in synergy with the Salesians of Don Bosco and with the Salesian Family.
The time spent in the UK gave Mother the opportunity to visit all the houses:  on 26 October Easterhouse (Glasgow), Scotland; Cowley (Oxford) on the 27; Battersea (London) on 28-29; Croxteth (Liverpool) on 30-31; Blundellsands (Liverpool) on 1 November, to meet each community and listen to each sister.
On the days of the visit there were moments of fraternity, such as the celebrations of Sr. Janet's 90th birthday, in Cowley, and of conviviality with the sisters, including the celebration of the Feast of All Saints with the Community of the Provincial House of Blundellsands. She also had the opportunity to meet some members of the Salesian Family in Glasgow and London, where with the FMA of the Battersea Community, she participated in the Eucharistic Celebration in Sacred Heart Parish with the members of the SF and the SDB Community of St. John Bosco, from the Province of Saint Thomas of Canterbury (GBR).
Mother Chiara Cazzuola traveled throughout the Province bringing joy and encouragement to all the FMA, to the collaborators, to the members of the Salesian Family, and to those she met, while the GBR Province continues its itinerary of restructuring in view of the future.
Photos: Flickr FMA