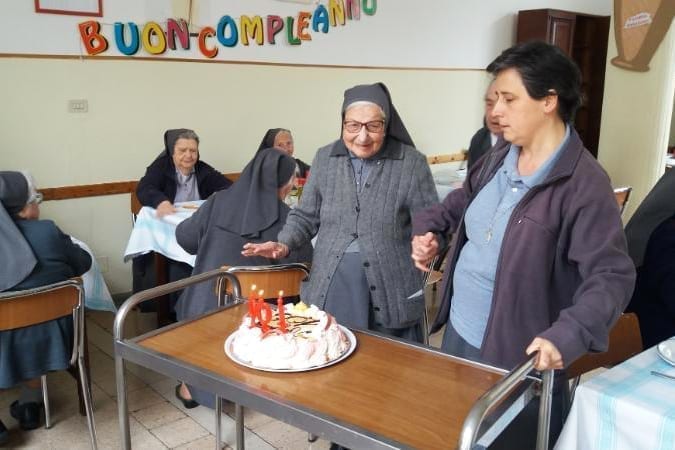 La Spezia (Italy) On April 18, 2020, the Mary Help of Christians Community of La Spezia, of the Emilia Liguria Province of Tuscany, Our Lady of the Cenacle (ILS), gathered to thank God for Sister Margherita Gentile's 100 years of life.
In the chapel of the House of La Spezia, the Provincial Sr. Carla Castellino, the Animator Sr. Maria Paoletti, and the Daughters of Mary Help of Christians of the Community thanked the Lord with her for her long life. The party, limited to the FMA present in the house due to the Coronavirus emergency that prevents visits, continued at lunch with the dining room decorated for the occasion, a cake to share, and the reading of the wishes of the Mayor of La Spezia, Dr. Pierluigi Peracchini.
A life, that of Sister Margherita, lived with refinement and trust in the presence of God. Piedmontese of origin, she went through the century bravely facing, from time to time, the changes that each new situation brought into her daily life, guided by motto that always distinguished her "Let's move forward with trust and love."
Gentle (Gentile) in name and in fact, she is remembered in a particular way as 'the Formator': she was in fact. the Formator of the novices and 'her novices' always remember her with affection.