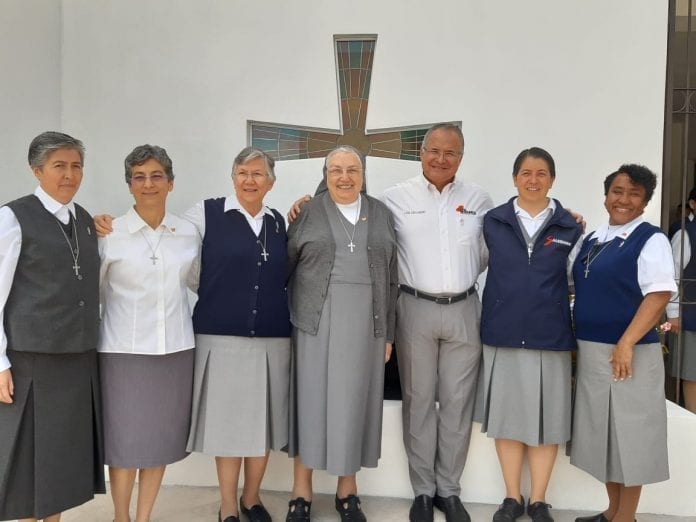 (Nuevo León, Mexico). In the presence of Mother Yvonne Reungoat, Superior General of the Institute of the Daughters of Mary Help of Christians, a new international community for migrants was inaugurated on November 18 in Mother of the Church Province (MMO). This new work is the realization of a dream nourished directly by Mother Yvonne, who requested a path of discernment at two interprovincial conferences, CIMAC and NAC, with the 13 nations that constitute them. The new community, which bears the name "Holy Family", was blessed by the diocesan priest, Fr. Luis Eduardo Zavala, legal representative of the Casa Monarca, association of humanitarian aid to migrants.
The opening of this community is very significant as it represents a concrete sign of the option in favor of the most vulnerable and needy people of our society: migrants. In his speech, Father Luis Eduardo expressed the need to work for our migrant brothers and sisters, recognizing in them the presence of the needy Christ of our day. Mother Yvonne, expressing joy for this moment, invited the FMA who make up this community to meet the urgencies that present themselves by witnessing to the charism that characterizes them. Their mere presence, in fact, is a sign that represents the option of the whole Institute for networking in favor of migrants.
Sr. Anna Cristina Chavira, animator of the community, Sr. Nilsa González, from Puerto Rico, and Sr. Inés Berrios from Nicaragua, were excited about the opening of what is now their new community in which they will be able to offer their services for the benefit of poorest.
The blessing celebrated with Mother Yvonne by the provincials, Sr. Leonor Guadalupe Salazar of Mother of the Church Province (MMO) and Sr. Guadalupe Torres of Our Lady of Guadalupe Province (MME), assisted the neighboring communities of Monterrey and Coahuila.
The house is located in the municipality of Santa Caterina (Nuevo León), near the Monarch House of humanitarian aid to the migrants, a reality with which the sisters will work closely, thanks to an agreement that will be signed shortly with the diocese of Monterrey.
Accepting, protecting, promoting, and integrating are the verbs pronounced several times to explain the mission that already takes place at Monarch House, which will also be that of the FMA of this new community. Finally, Father Luis Eduardo gave a symbol to the members of the community, a monarch butterfly, to remind them that the mission, even if it is difficult, will also be very rewarding and will fill them with joy.