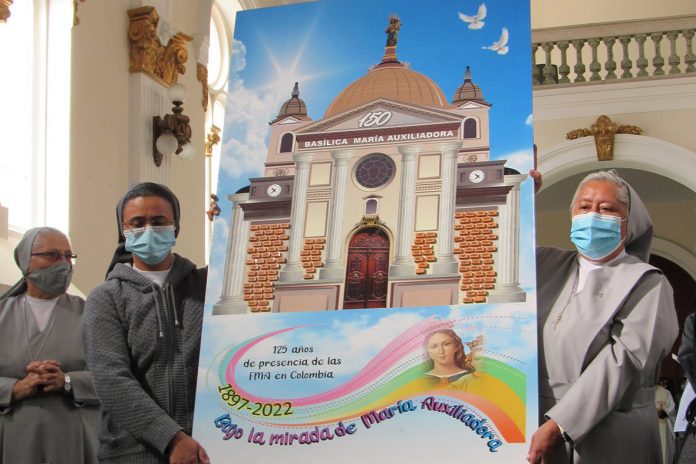 Bogotá (Colombia). On 11 January 2022 the Daughters of Mary Help of Christians of the Provinces of Bogotá, O. L. of the Snow (CBN) and O. L. of the Rosary of Chiquinquerà (CBC), celebrated the 125th anniversary of their presence at the service of Colombian children and young people (1897 – 2022).
The FMA recalled with gratitude the arrival of the first seven FMA who arrived in Bogotà on 11 January 1897: Sr. Brigida Prandi, Sr. Giuseppina Festa, Sr. Rosario Morillo, Sr. Modesta Ravasso, Sr. Serafina Ossella, Sr. Angiolina Tarrone, and the novice Herminia Pagnini who, initially taking care of the little ones, gave life to the work that has spread throughout Colombia.
At the Chapel of the Mary Help of Christians Community in Bogotá, of the CBC Province, Fr. John Jairo Gómez Rúa, Provincial of St. Peter Claver Province (COB) of the Salesians of Don Bosco, presided over the Eucharistic celebration concelebrated by other Salesian priests. Present were the Provincial of the CBN Province, Sr. Cecilia Camacho, the Provincial of the CBC Province, Sr. Edith Franco Ruiz, several FMA from the two Provinces, and some members of the Salesian Family.
In his homily, the Provincial reminded the FMA, "125 years of fidelity are at the same time a call to a verification to start over … as in the origins of Mornese, of Colombia. The charismatic fidelity carried out with so much enthusiasm for 125, years each day requires more commitment and renewal."
Fr. John then invited, "in the name of Don Bosco and Mother Mazzarello", to take up the history that remains to be written, keeping at the basis of fidelity an attitude of conversion. "This journey takes place hand in hand with God, as believers who know how to listen to His voice and from right discernment, they understand His call. (…) We continue to be credible, meaningful, and fruitful, not only for what we do, but for who we are."
During the celebration, a painting depicting the Basilica of Mary Help of Christians in Turin was presented. The names of the FMA of the two Provinces are written on the bricks that make up the facade, as a sign of being a living monument of Don Bosco's gratitude to Mary Help of Christians.
The day of celebration, which culminated in a simple fraternal moment in the spirit of a Salesian family, was for the FMA an opportunity to renew the desire to continue to be bearers of the Charism in every Community of Colombia and, following the example of the first missionary sisters, to be "generators of life", as requested by the XXIV General Chapter.