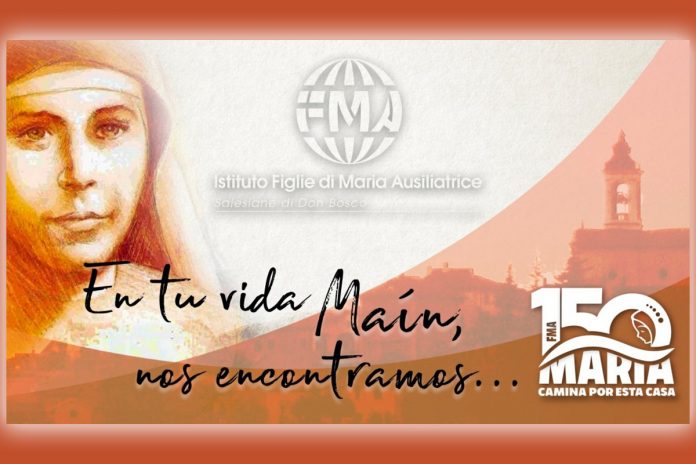 America. As part of the 150th anniversary of the foundation of the Institute of the Daughters of Mary Help of Christians, on 23 March 2022 a formative seminar on St. Mary Domenica Mazzarello began for lay educators and FMA from Argentina, Chile, Paraguay, and Uruguay.
The Seminar "In your life Maìn, we meet again", was conceived and organized by the Communication Coordinators of the Interprovincial Conference of the Southern Cone of Latin America (CICSAL) with the aim of offering, to celebrate the 150th anniversary of the Institute, a virtual shared formation for lay educators and FMA of the realities and works of the Provinces of CICSAL, "to remember the origins and give new impetus to the mission received as an inheritance". With the collaboration of Sr. Luigina Silvestrin, of the southern Province Our Lady of Good Counsel (IMR), the Seminary leads the participants to the place where everything was born: Mornese (AL), cradle of Maìn and the Charism.
On the first date, on 23 March, at the beginning of the journey through the places and significant experiences of Mary Dominica's life and with the people who helped her grow as a woman, daughter, friend, sister, and consecrated woman, 500 participants were connected on line. Mornese, Valponasca, Via Valgelata, the Collegio, Nizza, are some of the places that will be visited. On a weekly basis, the experience will end on 4 May and culminate in a celebration of gratitude scheduled for 10 August 2022.
The words of the Mother General of the FMA Institute, Sr. Chiara Cazzuola, at the opening of the Seminar, were an invitation to take up the commitment to ensure that the Charism grows and spreads, recalling the words of Don Bosco, "I draw up the draft, you will put the colors." "I like to think that, in this mission of spreading the color, each one of us holds their own brush in their hand, and with their own life, with their own characteristics, qualities, and resources, will give their brushstrokes to the Charism."
The dream continues in a collective and synodal construction which, like CICSAL, is shared and becomes a thank you to Mother Mazzarello, the FMA Institute and all those who, every day, from the different corners and realities of the world, enrich this monument of living Stones.