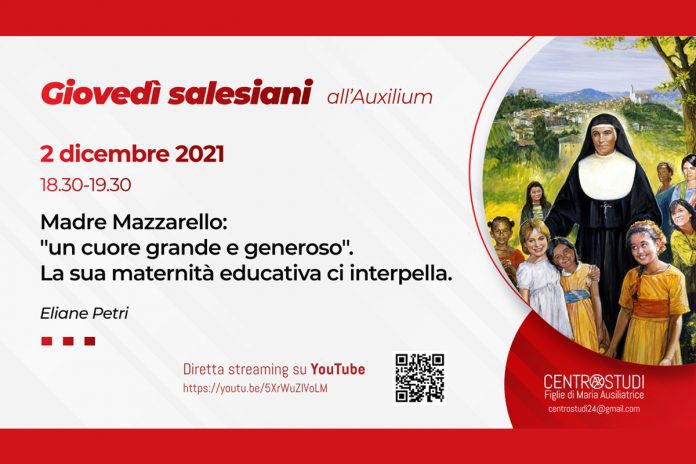 Rome (Italy). On 2 December 2021, at 18.30 (Italian time) the 2nd appointment of the "Salesian Thursdays at  the Auxilium" with the reflection by Prof. Eliane Petri, Professor of Spiritual Theology at the Faculty of the Science of Education "Auxilium", on the theme: "Mother Mazzarello: a great and generous heart. Her educational motherhood challenges us".
The reflection is in continuity with the theme of the Document of the XXIV General Chapter – With Mary, be a life-giving 'presence' – and with the theme of the third year of preparation for the 150th anniversary of the Foundation of the Institute of the Daughters of Mary Help of Christians ( 1872-2022), Plan the future with daring: "Courage, let us go forward with a big, generous heart" (L 47,12), with the aim of deepening the aspect of the educational motherhood of Mary Domenica Mazzarello.
"The secret of her life, in fact, is contained in her 'mother's heart'. Her mission was to generate and educate the first FMA and to create a new way of being a vocational, synodal, missionary community 'with' and 'for' the young. She teaches us a style to be a meaningful and challenging 'presence'; learn to become ourselves in the best way, people who have the courage and patience to weave authentic and profound interpersonal relationships, who bet their lives in 'taking care of', in loving, and making themselves loved, consciously working to place the conditions that promote the culture of life and the civilization of peace and love", explains Professor Petri.
The presentation will highlight the characterizing traits of Mary Domenica's educational motherhood,  motherhood that generates and educates to life, motherhood that generates and humanizes communities; educational motherhood in the synodal style, in the animation and governance of the Institute.
Source: pfseauxilium.org