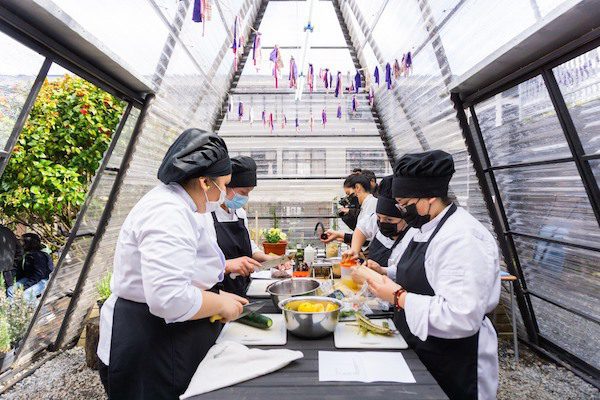 Puerto Montt (Chile). On 7 September 2022, the "Cultivable Patio" project (cultivable courtyard) was inaugurated at the Polytechnic Institute of Mary Help of Christians in Puerto Montt, in the St. Gabriel Archangel Province (CIL), in collaboration with the "Patio Vivo" (Living Patio) Foundation, a non-profit foundation that works to transform school play areas into learning spaces.
The project, in line with the objectives of the Laudato Sì' Initiative Platform, consists of a cultivable courtyard that involves the planting of 6 native trees of the area, a greenhouse, a vegetable garden, and a composter, used as an open classroom for students   training in 'Technical-Professional Gastronomy, with a specialization in cooking. Here the students will be able to grow and collect the ingredients for the foods they prepare, contributing to a healthy, sustainable, and traditional diet.
This initiative, accompanied by a pedagogical program, aims to develop educational skills for the 21st century and promote students as agents of change in their families and communities.
In fact, the specific objectives of the project aim at the appreciation and co-construction of knowledge regarding local agricultural techniques and environmental sustainability; strengthening ties with the community; creating networks with the actors of the culinary culture of the territory, which combines traditional Chilean and Patagonian dishes with European dishes.
At the inauguration of the Cultivable Patio, Sr. Amalia Palacio, Daughter of Mary Help of Christians, Legal Representative of the Institute, thanked Gerardo Saldivia Ampuero, Provincial Head of Education of Llanquihue; Verónica Soto Téllez, Supervisor of the Provincial Department of Education; Marcial Huneeus, Executive Director of the Fundación Patio Vivo; Rocio Espinoza, Executive Director of the Fundación MC; and all those who participated in this moment of innovation in the management of professional technical education courses.
"Ecological Education is about revising and redefining curricular and institutional reform in the spirit of integral ecology in order to promote ecological awareness and transformative action" (Objective 5 LS).