Medellin (Colombia). On 15 September 2022, at the opening of the 2nd Spirituality Congress organized by the Salesian Family in Colombia, held from 15 to 18 September at the St. John Bosco School of Medellin Belen, in the Province of St. Mary Mazzarello (CMM), the Congress of the Republic of Colombia conferred the Order of the Congress of Colombia in the rank of Commander to the Institute of the Daughters of Mary Help of Christians, in recognition of the 150th anniversary of Foundation.
The decoration was awarded by the Senator of the Republic, Dr. Germán Blanco Álvarez, to Sr. Leslye Sándigo, General Councilor for the Salesian Family, Delegated by the Superior General of the FMA Institute, Mother Chiara Cazzuola.
On the same occasion, the Assembly of the Department of Antioquia, Colombia, conferred on the FMA Institute the Order of Civic and Entrepreneurial Merit of Mariscal Robledo of Golden degree, in recognition of the 125 years of FMA presence in Colombia.
The honor was conferred by the Deputy of Antioquia, Dr. Jorge Correa Betancur, to Sr. Cecilia Camacho, Provincial of the Province of Our Lady of the Snow (CBN).
With these awards, the national and departmental Government joins the celebrations of the Groups of the Salesian Family, in particular the FMA Past Pupils Association of Colombia, on the 150th anniversary of the FMA Institute, recognizing the educational work carried out by each of the Daughters of Mary Help of Christians in favor of Colombian youth throughout the country.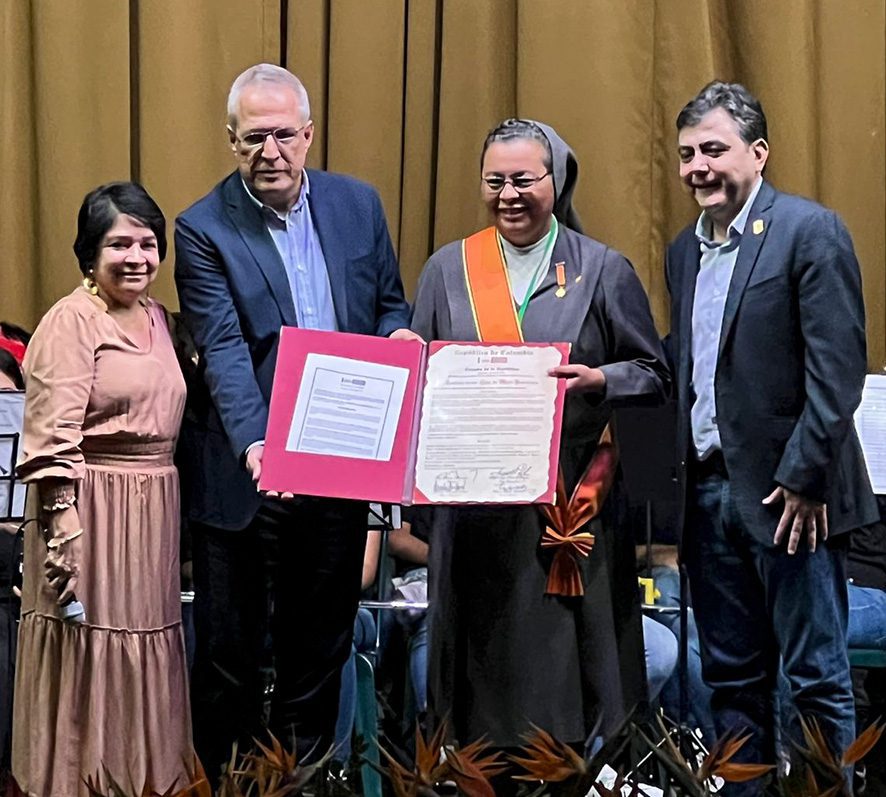 Sr. Leslye Sándigo, in the name of Mother Chiara Cazzuola, thanked the Congress of the Republic of Colombia and the Assembly of Antioquia, recalling Mother's words in her Message for the 150th of the FMA Institute: "To celebrate is to give thanks for the journey traveled, but also to look to the future, to the journey that continues. The call is still of Mother Mazzarello, because her educational commitment prompted her to start from immediate needs, to rekindle hope, to orient towards values, to a wide-ranging mission of which today we are a sign and world-wide actualization."
She concluded her address by saying, "Today, for the Institute and especially for the FMA in Colombia, this message is a challenge. We must continue to write the history of the Salesian charism in these blessed lands with new characters. Let us remember that we do not walk alone, that a large family accompanies us, and the presence of all the members of the Salesian Groups in this commemorative gesture is a sign of this."
The work of the 2ndSpirituality Congress of the Salesian Family of Colombia, organized by the Joint Interprovincial Formation Commission of the Salesian Family with the support of the Provincial Superiors of the SF of the country, continued for the 180 participants on the theme, "The Pedagogy of accompaniment with the benevolence of Saint Francis de Sales," in the context of the 400th anniversary of his birth into heaven.