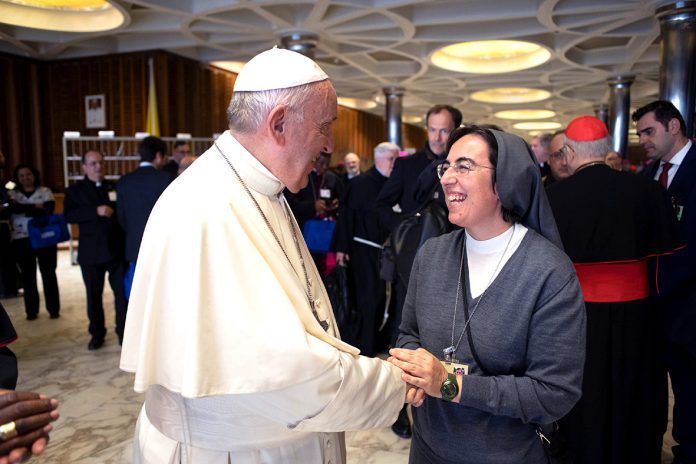 Rome (Italy). The Holy Father has appointed Sr. Alessandra Smerilli, Daughter of Mary Help of Christians, Secretary ad interim of the Dicastery for Promoting Integral Human Development and Delegate for the Vatican Covid-19 Commission.
Sr. Alessandra Smerilli was born on 14 November  1974 in Vasto (CH), Italy. She has a PhD in Political Economy from the Faculty of Economics of  La Sapienza University of Rome, and a PhD in Economics from the School of Economics of the University of East Anglia in Norwich (United Kingdom). She is a Full Professor of Political Economy at the Pontifical Faculty of Educational Sciences Auxilium in Rome.
Prof. Smerilli is engaged in the service of the Church and the world as Councilor of the Vatican City State and Consultor for the Synod of Bishops. Since March 2021, she has been Under-Secretary of the same Dicastery and Coordinator of the Economics Taskforce of the Vatican Covid-19 Commission, established by Pope Francis.
The Dicastery for Promoting Integral Human Development was established by Pope Francis on 1 January 2017 and "promotes integral human development by drawing inspiration from the Gospel and in line with the theology and social doctrine of the Church. It studies and collects news and results of investigations about justice and peace, the progress of peoples, the promotion and protection of human dignity and human rights, disarmament, and armed conflicts, as well as their tragic consequences on the civilian population and on the natural environment. By integrating, relating, and dialoging between the various social systems,  such as economy, finance, work, politics, culture  the Dicastery works to ensure that the social teaching of the Church is made known and put into practice." The Prefect of the Dicastery for Promoting Integral Human Development is Cardinal Peter Kodwo Appiah Turkson.
Sr. Alessandra Smerilli expresses her gratitude to Pope Francis for the appointment:
"I am grateful to the Holy Father for the challenging task he has called me to assume and I pray the Lord to help me honor this call in a spirit of obedience to the Church, with humility, passion, creativity, and the ability to listen that it requires. My desire and commitment is to be able to better serve the mission of the Church, for the time that the Pope deems appropriate."
The FMA Institute congratulates Prof. Alessandra Smerilli for this new assignment and wishes her to continue in her commitment to the integral promotion of the person and care for creation, carrying out the principles of the civil economy for the benefit of the Church, of the FMA Institute, of young people, and of the peripheries.