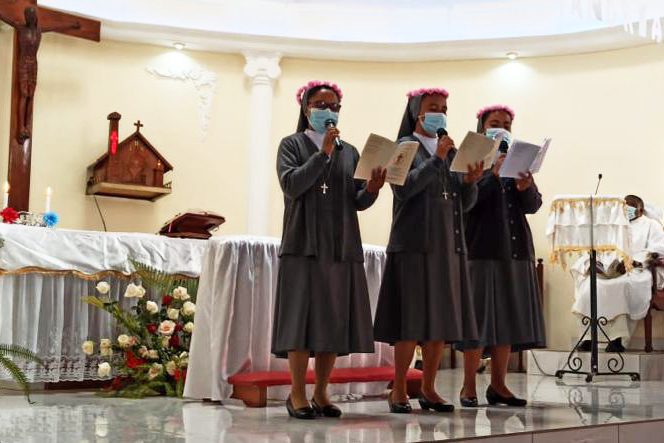 Antananarivo (Madagascar). On 5 August 2021, four Daughters of Mary Help of Christians from Mary Source of Life Province (MDG) made their Perpetual Vows in the FMA Institute. The celebration for three young FMA took place in the Parish of Saint Teresa of the Child Jesus of Ivato, Antananarivo, in Madagascar, while for the fourth FMA, which is in Italy for studies, at the Sanctuary of St. Mary Domenica Mazzarello in Mornese (AL).
On the same day, the first Malagasy FMA of the Province celebrated her 25th anniversary of Religious Profession.
The Solemn Eucharistic Celebration held in Ivato (Antananarivo) was presided over by Fr. Bizimana Innocent, Superior of the Preprovince of Mary Immaculate Madagascar and Mauritius, and concelebrated by the Salesians of Don Bosco and some priests from other religious Congregations.
In his homily, the Provincial underlined the importance of love in life, recalling that to do God's will one must carry the cross, which leads to holiness, "Holiness does not depend on age, but on the testimony of daily life".
According to the Malagasy tradition, when a child makes an important life decision, the parents are asked for their blessing so that everything may go well. For this reason, before pronouncing the formula of Religious Profession, the parents expressed their assent and blessed their daughters to continue the path of consecration with freedom and remain faithful to it.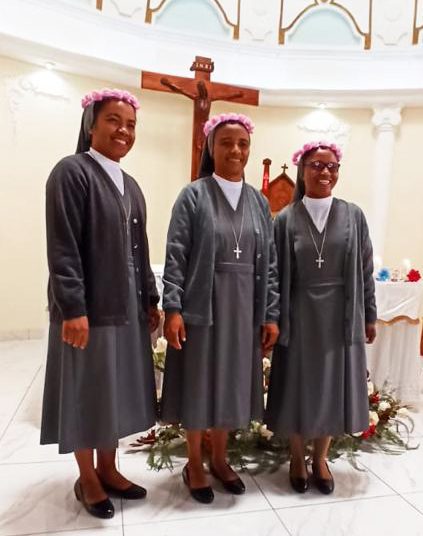 The New Perpetuals, who initially sat with their families, after having pronounced the formula of Religious Profession, sat with the FMA. It is a symbolic gesture that marks the transition from belonging to the natural family to the religious family.
The Provincial, Sr. Bernadette Chongo Cola, Delegate of Mother General, Sr. Yvonne Reungoat, welcomed the three perpetually professed FMAs into the Institute of the Daughters of Mary Help of Christians.
After pronouncing their 'Yes' forever, the New Perpetually Professed Sisters sang as praise and thanksgiving, the hymn composed with the Word of God chosen by them for the celebration, "Who will separate us from the love of Christ" (Rom 8:35 ). The joy of the FMA present in the Province resounded in the Hymn of the FMA "O qual sorte".
At the end of the Eucharistic celebration, the feast continued together with the families of the New Perpetuals, friends, FMA, Salesian confreres with a time of Salesian fraternity, giving expression to joy with creativity.