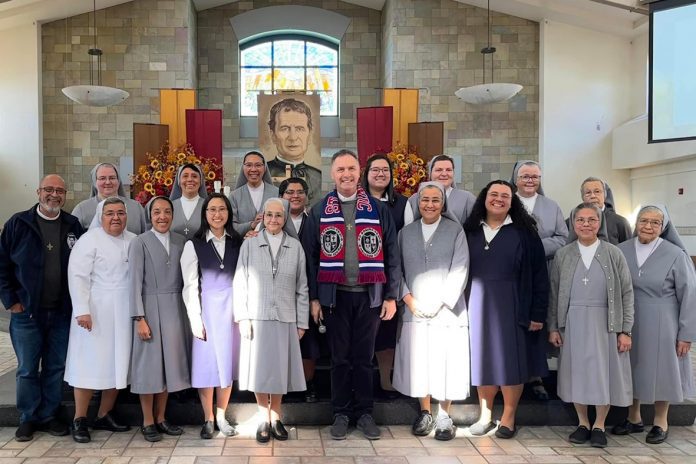 California (USA). From 17 to 20 November 2022, the Daughters of Mary Help of Christians of  Mary Immaculate Province (SUO) of the United States had the joy of welcoming the Rector Major of the Salesians of Don Bosco, Fr. Ángel Fernández Artime, on a visit to the two American SDB Provinces.
On the evening of 17 November 2022, in Bellflower, he celebrated Holy Mass with the whole Educating Community in English and Spanish, while on Friday 18, he celebrated in the Chapel of  Mary Help of Christians Community and experienced a family moment with the FMA. The Sisters and Postulants were thrilled to have Fr. Ángel among them.
In the middle of the morning, the representatives of the different groups and some children of St. Dominic Savio Institute organized a welcome moment. Students and Teachers offered the Rector Major gifts, as well as songs prepared and performed by the Marian Group, the Green Team, the Choir, and the Student Council.
After the presentation of the School by the Provincial, Sr. Rosann Ruiz, the representatives of ADMA-Y (ADMA Youth) and the catechists of the Church of St. Dominic Savio gave Fr. Ángel their T-shirt and a Marian hymn of prayer as blessing for his journey. The representatives of the Small Christian Communities and the catechists of the Church of St. Thomas the Apostle then illustrated their mission in the Los Angeles region. Fr. Ángel got involved in the life stories of immigrants and their educational passion.
The Rector Major then went to San Francisco, where on Saturday 19, he celebrated Mass at  Saints Peter and Paul Institute for the 125th anniversary of the presence of the Salesians in the United States and met the FMA of northern California.
On Sunday 20 November, he celebrated Mass with the Promise of the new Salesian Cooperators in the parish of Corpus Christi in San Francisco. The FMA rejoiced and thanked the paternal presence of the 10th successor of Don Bosco in their midst and promised to pray for his travels.