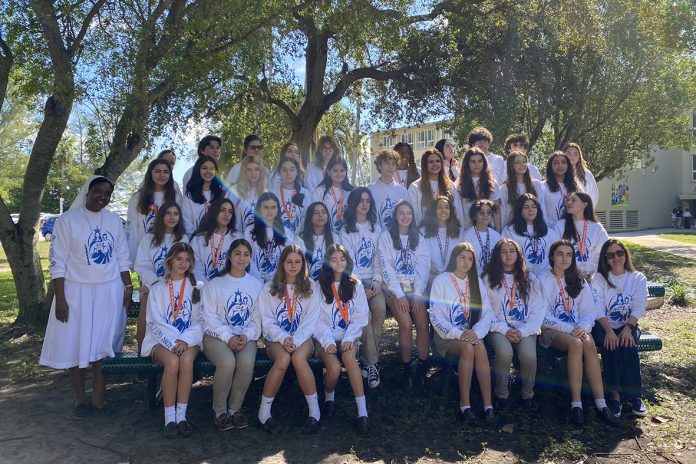 Miami (United States). On 5 November  2022, a group of young people from the Association of Mary Help of Christians (ADMA) of  Immaculata La Salle High School, together with Sr. Myriam Meus, Daughter of Mary Help of Christians of  Bl. Laura Vicuña Community of St. Joseph Province (SEC), animated a morning for the students of the Religious Education course of the parish of Our Lady of Haiti.
The young people prepared and conducted various activities, using the four components of a Salesian Oratory and gratitude as basic themes:
–  Home that welcomes, in which the children experienced hospitality, enjoying a good snack, listening to music, and playing a Thanksgiving bingo.
–  School that accompanies to life, where they learned the importance of giving thanks, especially to God. They read and recited the Gospel in which only one of the ten lepers returns to thank Jesus.
–  Church that evangelizes, in which they had the chance to create a bird feeder and shared about the richness of God's creation, thanking Him once again for all His blessings.
– Courtyard full of joy, where they played different board games together.
"It was a wonderful experience helping these children and it made me realize how lucky I am to be able to help others", said Joseph, a young man in the group, at the end of the experience.
"Promote and form ADMA groups in our houses" is one of the challenges that the  Salesian Family Sector of the Institute of the Daughters of Mary Help of Christians has taken on for the six-year period 2022-2027. ADMA associates aim to radiate devotion to Mary Help of Christians throughout the world. According to Don Bosco's heart, devotion means: entrustment, imitation, apostolic and educational passion.
Don Bosco dreamed of a movement of people for the education of young people. ADMA is taking this desire to heart, promoting ADMA YOUTH, which offers the proposal of a Christian life itinerary for boys and girls and young people according to the Salesian charism, emphasizing the Marian dimension and putting oneself at the service of the Gospel and the Salesian mission in the Church.