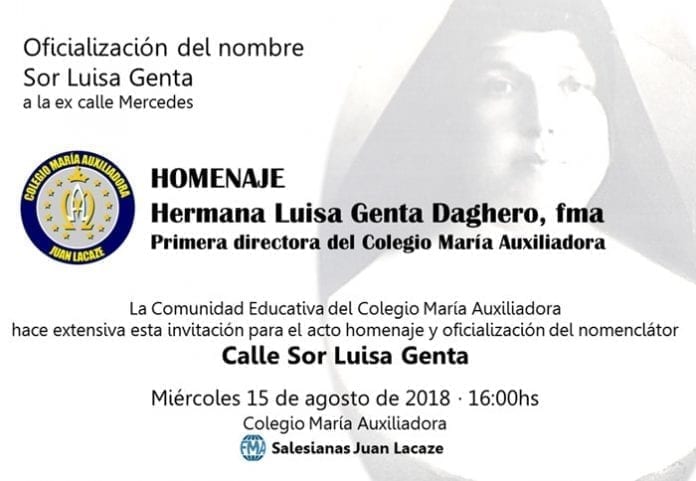 (Uruguay). On August 15th 2018, the road that bears the name of "Sister Luisa Genta" is inaugurated, Woman and FMA Sister, who gave her life and spread the Salesian charism in the "lacacinas" land at Mary Help of Christians School".
On the occasion of the 75th anniversary of Mary Help of Christians School, a group of past pupils, students, collaborators, the educating community, and the families of the area who knew this sister and had gathered testimonies from those who lived with her, proposed to the municipal authorities the premises to give a new name to the street in which Mary Help of Christians School is located.
Present were municipal, civil, and religious authorities who shared with love and gratitude the brief significant episodes of the life of Sister Luisa Genta.
Sister Luisa Genta was born in Canelones (Uruguay) in 1885, daughter of emigrants, her parents, although not having faith, enrolled her at the FMA School, but did not support her on the path of Christian life and of her call to religious life.
At the age of 25, she entered the Institute of the Daughters of Mary Help of Christians, where from the beginning she distinguished herself for her kindness and her ardent apostolic activity.
Juan Lacaze (Uruguay), is a small working class city that welcomed the presence of the Daughters of Mary Help of Christians 75 years ago. Mary Help of Christians school was born in an adverse environment, where Protestantism was deeply rooted. In 1942, this did not prevent a group of Daughters of Mary Help of Christians, including Sister Luisa Genta, to begin to educate and evangelize.
The "Campomar" textile factory was the center of the city and most of its inhabitants worked there. The owners encouraged the construction of the School by supporting the presence of the sisters. The main purpose of the social work is the training of young people and job placement.
As in every Salesian house, in addition to the vocational school, there is the daily oratory, meeting place for education and evangelization for adolescents, young people, and mothers. Then the Primary School, catechesis, and the table for the daughters of the factory workers are activated.
The work of evangelization by Sister Luisa and the members of the community in a Protestant environment is very precious, and from the beginning there are conversions and baptisms of entire families, conquered by the charism of kindness and joy.
The community of sisters networked with Parish groups, other religious families, the Salesian Cooperators, and Educational Institutions.
In September 1946, Sister Luisa, now debilitated in body, was transferred to Montevideo and in December of the same year she went to the Father's house. It is a great loss for the entire city of Juan Lacaze that remembers her and commemorates her as a woman and sister at the service of others.