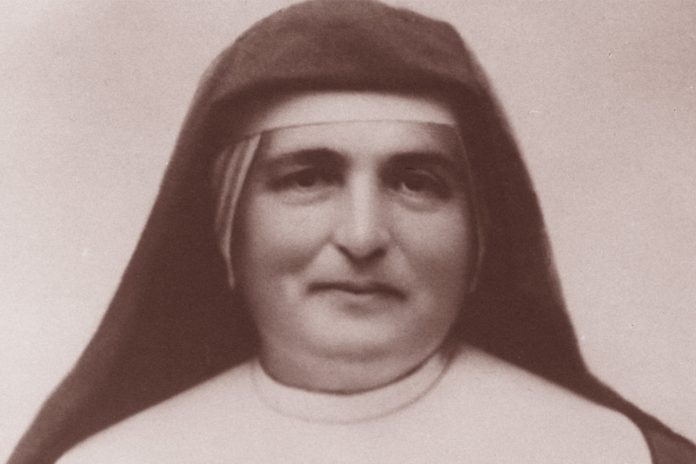 Rome (Italy). On 15 November 2022, we celebrate the liturgical memory of Blessed Mother Maddalena Morano (1847-1908), Piedmontese Daughter of Mary Help of Christians who knew how to enculturate herself in Sicily to proclaim the Gospel of Christ and spread the Salesian spirituality she had breathed in Mornese, Nizza Monferrato, and Valdocco, in her relationship with Don Bosco and Mother Mazzarello.
On the 150th anniversary of the foundation of the FMA Institute, her daring is highlighted, which made her an active citizen in the Sicilian context of the late nineteenth century that was diffident in regard to religious women. Enterprising and intuitive, she knew how to make herself loved and listened to.
Mother Morano had intuited that the witness and coherence of life in apostolic commitment were the secret of meeting people, "I think I'm here for the Lord and with the Lord… when I feel I really love him, I'll make Him loved also by these poor Sicilian girls, who know Him so little and are so full of prejudices."
Sr. Adele Martinoni testifies, "I can attest that she had a great zeal for catechism. Coming to the houses, she questioned the pupils of the individual classes, then made her assessments and inculcated that catechism should not be taught only literally, but that it should be translated into practical life. Everywhere, she recommended that catechetical teaching should be imparted to all categories of people, taking care of the opening of schools and oratories, as she did in a particular way in Catania. In these schools, she supervised the preparation of the girls for First Communion, assigning to this in a special way a sister who went around all the parishes of the city. She made great sacrifices to find the time to go on foot to inspect the parish catechism schools, often without regard to her poor health" (in G. Favini, Life of the Servant of God Mother Maddalena Morano, Turin, 1966, pp 118-119).
Today at the diocesan shrine of Alì Terme, Messina dedicated to Mary Help of Christians, in the chapel where her relics are kept, many pilgrims go to ask for her intercession. Mother Morano is recognized as the woman who with her faith has power with the Father. Many young couples go to her to entrust their new life to her. They believe that she is a true mother who understands the pains and hardships of those she generates and of those she wishes to generate life.
Cancer patients entrust themselves to her, who also was a victim of this disease. They feel accompanied in the inner struggle experienced by those suffering from this disease. Above all, parents ask her for help in the difficult mission of educating their children.
In 2017, the Archbishop of Messina – Lipari – Santa Lucia del Mela, Msgr. Giovanni Accolla, decreed that Blessed Maddalena Morano be recognized by the entire Archdiocese as "Patroness of Catechists and Educators". The motivation reads, "Blessed Maddalena Morano, Daughter of Mary Help of Christians, was an indefatigable educator of youth animated by the desire to make the Lord Jesus known and to instill in the souls of the faithful an uninterrupted union with God, a desire for holiness, and a firm will to live Christian life, … her life is well identified as an example to follow for those in the Church who are concerned primarily with collaborating in the proclamation of the Gospel."
In an annual pilgrimage and in various formative and celebratory moments, catechists and teachers turn to her to accompany and illuminate the apostolic commitment to evangelization and proclamation. They ask for the zeal to deepen the truths of faith and the renewed commitment to act in communion without any personal and individualistic interest, to illuminate and inspire with her life new strategies to reach children and families.
Mother Morano is also recognized as a religious capable of renouncing herself to serve and to accompany the poorest and most difficult girls. Every year, on 15 November, the Scholastic Institutions and the Associations that welcome children and young people, also those with disabilities, in the Ionian area of Sicily, entrust the new school year to the intercession of Mother Morano with a solemn celebration at the Shrine.