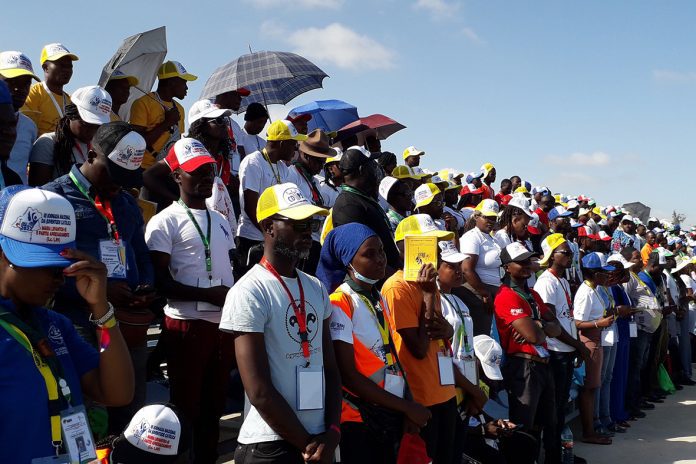 Benguela (Angola). From 9 to 13 November 2022, the III National Catholic Youth Day took place in Benguela, Angola, on the theme of Pope Francis' Message for World Youth Days 2022 and 2023, "Mary got up and went quickly" (Lk 1: 39), with the presence of 1,200 young pilgrims from the Dioceses of the Episcopal Conference of Angola and São Tomé (CEAST).
Various young people from the realities of the Daughters of Mary Help of Christians were present at the Day, accompanied by Sr. Idalina Mareco, Delegate for WYD; Sr. Isabel Mira, Sr. Jaqueline Pereira, Sr. Maria Teresa Arabolaza.
The Bishops presented the catecheses to the young people on three topics: Msgr. Zeferino Zeca Martins, Archbishop of Huambo, on "Young people and the faith received"; Msgr. Luzizila Kiala, Archbishop of Malange, on "Young people and the faith celebrated"; Msgr. Gabriel Mbilingui, Archbishop of Lubango, "Young people and the faith witnessed".
At the end of the catecheses, the program for World Youth Day 2023 was presented, which will be held in Lisbon from 1 to 6 August 2023.
During the Days, some congregations were able to present their own charism. The Community of Blessed Laura Vicuña of Benguela, with the aspirants and young people in search of a vocation, prepared the "tent of the Charism" representative of the FMA Institute.
On Sunday 13 November, in the concluding Mass, Msgr. José Manuel Imbamba, President of CEAST, underlined in his homily, "The love of Christ has brought us together. He gives meaning to our lives. It is time to take stock at the end of this liturgical year. Today's liturgy launches us into the eschatological time: these are words that encourage us to live charity. They are an invitation to look at what is essential, not to live superficially, to give quality to our witness. What does not pass are spiritual values. We often idolize material and fleeting things, and a pharisaic conscience emerges which does not allow us to appreciate the value and beauty of others. Faced with an excess of freedom, the challenge to change arises: we must not be afraid to proclaim Christ. So much depends on our conversion, on our attitude, on our dreams. Let us set out, like Mary, to sow joy, commitment to society, to dignity, to the civilization of love. Christ sends you!".
The young people of Angola lived this Day with joy and depth and continue their journey, in communion with young people from all over the world, towards WYD 2023 in Lisbon.