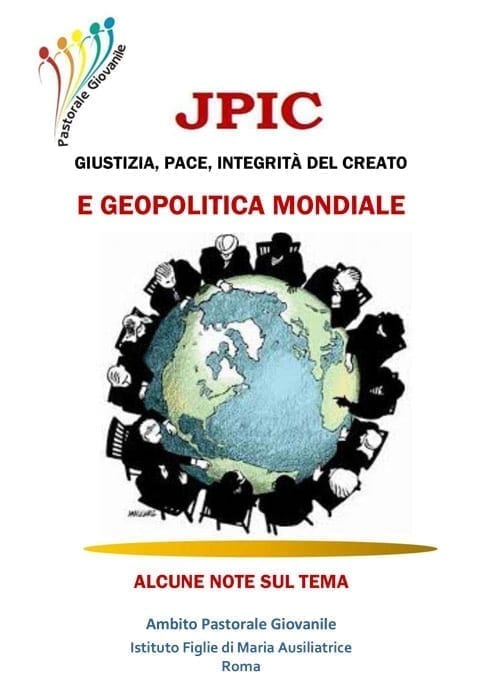 Rome (Italy). The Youth Ministry Sector offers n. 13 of the YP Series on the theme "Justice, Peace and Integrity of Creation (JPIC) and World Geopolitics" for the formation of youth ministry teams and educating communities.
We are living in an epoch of change and of deep transformation, a time which needs reflective attention on the social/cultural context where we live in order to offer an education that is appropriate for the reality. The Guidelines for the Educational Mission (LOME) begin with the invitation to make a critical reading of our times. Pope Francis repeats this need in many of his interventions and, in a synthetic way, in the phrase, "reality is more important than ideas."
The theme of no. 13 of the YP Series can help us to understand the complexity of today's reality by looking at some dynamics that in a direct or indirect way, influence national, continental, and world situations. We live in an inter-connected world and no Country or social group can live by itself or in isolation.
The social dimension of evangelization was a very present element in General Chapter XXIII and the YP Sector has kept in mind the Six-year Program because it believes that, as Pope Francis affirms: "if this dimension is not duly explained, we always run the risk of disfiguring the authentic and integral meaning of the mission of evangelization" (Evangelii Gaudium n. 176).
Number 13 of the YP Series, pdf in five languages, can be downloaded in the YP Documents section of the Website. It is an instrument that can empower shared reflection in the educating communities and with the young people, encouraging them to face the causes of unjust situations that impoverish especially children and young people and can provoke every FMA with the educating communities to pastoral conversion, a call today to seek paths of hope for humanity.