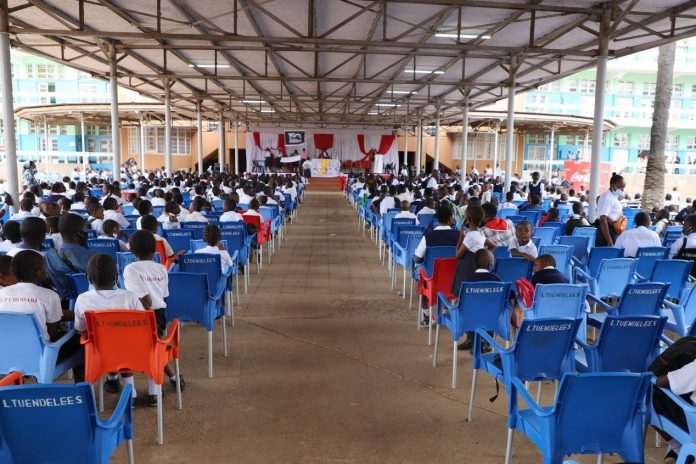 Lubumbashi (Dem. Rep. Congo). On 16 January 2022, the Daughters of Mary Help of Christians of "Our Lady of Africa" Province (AFC) celebrated both St. John Bosco with the young, and also with them, the opening of the 150th anniversary of Foundation of the FMA Institute. More than 3000 children/and young people, aged 5 to 25, with animators, teachers, educators, and FMA of the works of the Daughters of Mary Help of Christians, were present at the Lycée Tuendelee in Lubumbashi.
The FMA enthusiastically shared this great event of the Institute with all the young people of the Salesian realities and with the members of the Salesian Family present. They presented the logo of the 150th – Mary walks in  this house, taking up the words spoken by Don Bosco in 1885 to the FMA in the house of Nizza Monferrato (AT), the logo created by Maria Fernanda Bastidas Zapata, Past Pupil of Mary Help of Christians School in Medellin (CMA), explained, the hymn "Caminando con Maria" by Juan Javier Bernal García, Spanish Salesian Cooperator, and launched the initiatives planned to celebrate the anniversary.
The explanations on the 150th anniversary were the background to the various activities of the day, including a round table with the girls on the Foundation of the Institute, held by some FMA.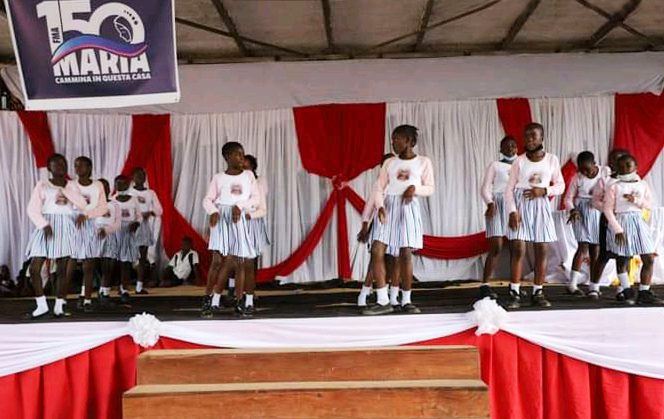 The day was animated by various moments, starting with the Eucharistic celebration, presided over by Fr. Emmanuel Musabila, and concelebrated by the representative of the Salesian Youth Movement, Fr. Jonas Madish, both Salesians of Don Bosco of Assumption of Mary Most Holy (AFC). Games were also organized and the girls performed in the dance of the anthem of the 150th.
During the year, various initiatives are planned to celebrate the 150th anniversary of the Foundation of the FMA Institute in the best possible way, with the involvement of all the members of the Salesian Family of the local realities: a recital and songs on Mother Mazzarello, a round table on the life of Mother Mazzarello and on the history of the FMA Institute, cineforum, shows, theaters, and competitions.
"Grateful to God and to Mary Help of Christians for the great history that we have lived up to now as FMA, we want to revive the beauty of the charism, to be more meaningful and contagious in the different contexts of today's world" (cf. Circ. N. 985).