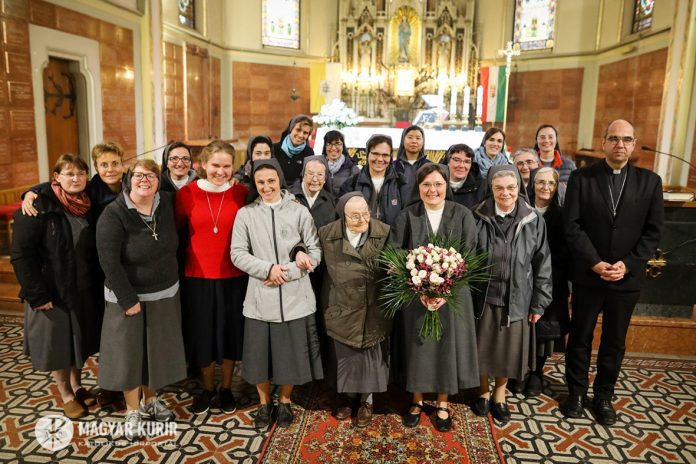 Budapest (Hungary). On 22 October 2022 in Budapest, Sr. Helga Skribanek, FMA of the Province of St. Mary D. Mazzarello (ITV), which includes Hungary, as well as the Italian regions Veneto, Trentino Alto Adige, and Friuli Venezia Giulia  made her Perpetual Profession in Institute of the Daughters of Mary Help of Christians.
Perpetual Profession is an ecclesial act that gathers the presence of family members, young people, friends, FMA, and the whole Christian community, who experience the event as a strong moment of the Church, of celebration, of vocational witness.
A Temporary Professed FMA from Veneto, who with other FMA participated in the celebration and the vigil with the young people, tells of the experience.
"We, the youngest Daughters of Mary Help of Christians in Triveneto, received an unexpected and desired gift: being able to go and visit our FMA sisters in Hungary, part of our Province, and participate in the Perpetual Vows of Sr. Helga Skribanek.
The Yes to God beyond the borders
Thus, on 21 October at dawn, we left Padua for Budapest. We were a group of Temporary Professed Sisters with some new-perpetuals, and a Novice from Triveneto, accompanied by Sr. Elena Ongarato, Provincial Councilor. Upon arrival, the sisters of the three FMA communities present in Hungary welcomed us with great familiarity, with the Provincial, Sr. Palmira De Fortunati, and Sr. Simonetta Franchini.
After a brief and emotional visit to the capital, we participated in a Vigil with the young people and some members of the Salesian Family, preparing and praying for Sr. Helga's Perpetual Vows. We  experienced that the Salesian charism goes well beyond borders and lives in every small and courageous 'yes' to God, to Life, and to Good. This urges us to live the faith more radically in our daily life, desiring Communion and working to build it.
The following day, we enthusiastically took part in Sr. Helga's 'Yes forever' to God and to the youth at the Kisboldogasszony Shrine in Budapest-Máriamete. During the celebration, we were impressed by the wish of Msgr. János Székely, Bishop of Szombathely, addressed to Sr. Helga and to all the Salesians who have received the precious grace from God to be His sign, 'May every word of yours and every move be God's smile towards the young!'.
I stayed because it was my place
In these days, we were also able to hear the testimony of Sr. Etelka's life. This sister responded and was faithful to her Salesian vocation and mission during the dark years of the communist regime in Hungary, carrying forward the Charism of Don Bosco and Mother Mazzarello in hiding, and in the persecutions of the period from 1945 to 1989. 'I stayed because I felt that this was my place, that I couldn't escape. I did what I felt in my depths', is how she recounts her remaining faithfully in her land, despite the fact that she could not express herself freely, not even at home with her parents and among friends.
A vocation born with small steps, thanks to the testimony of some figures who surrounded her life, and a biography of Don Bosco read almost by chance, which leaves her with a profound desire to give herself to the young, to the people, 'Make yourselves loved so that they can love the Lord'. Thus, Don Bosco inspired her vocation as a great gift, a grace that she had to guard and keep secret for almost 40 years, during which she worked in silence, prayed in silence, communicated Jesus Christ in silence. When asked where she found the strength, courage, and determination to live like this, Sr. Etelka promptly and without hesitation replies, 'In the Eucharist! I've never been alone!'.
'They will see your life, that you live the Constitutions, and then God's work continues in you'  she relates to the young Daughters of Mary Help of Christians, who listen to her words in silence, incredulous that so little is enough to live happily, 'Being who you are is not to be taken for granted', concludes Sr. Etelka".
Source: fmaitv.eu