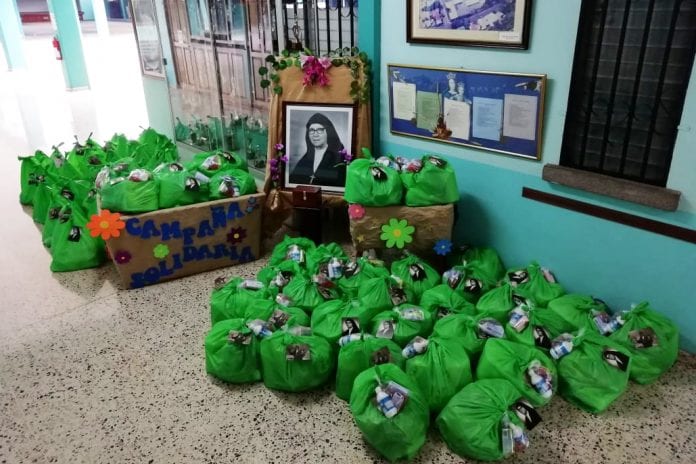 San José (Costa Rica) On 7 July 2020, the Province of Our Lady of the Angels of Central South America (CAR) celebrated the Feast of Blessed María Romero Meneses – Daughter of Mary Help of Christians who gave herself entirely to the poorest – through initiatives of solidarity.
In the context of the health emergency of Covid-19, the CAR Province, following the model of life of Sister Maria Romero, animated through the social networks a Solidarity Campaign in the three countries that make it up – Nicaragua, Costa Rica, and Panama – inviting the Educating Communities to collect basic necessities for families affected by the health, economic, and social crisis.
The campaign, inspired by Sister Maria's model of service and holiness, is still open and more than 500 families who have no source of income due to loss of jobs, the elderly, women in conditions of vulnerability, and other poor people have already been helped.
Thanks to the generosity of many people, the Province coordinated the creation of gift packages and their delivery to needy families, accompanied by a message of hope and a photo of the Blessed.
The Eucharistic Celebration of the Feast of Sister Maria Romero took place in the chapel of the Casa Maria Ausiliatrice – Social Works of San José and was broadcast on the Catholic Channel of Costa Rica and on the social networks of the CAR Province.
During the celebration, presided over by Msgr. Bruno Musaró, Apostolic Nuncio of the Holy See in Costa Rica, concelebrated by his Secretary Giovanni Battista Itaruma, by presbyters Fr. Oscar Brenes and Fr. Cristiano Bermúdez, the Nuncio said in the homily: "Sister Maria reached holiness with a life lived in simplicity, doing the works of Mercy. How many times will she have meditated on the biblical passage of the Beatitudes? She was able to see in each brother and sister the suffering face of God and has therefore understood the true Mystery of the Incarnation of the Son of God in our brothers and sisters mentioned in the verse: "every time you did these things to even only one of my little ones, you did it to me" (Mt 25: 40).
Through concrete gestures of attention to the poorest by those who follow her example, Blessed Sister Maria Romero Meneses continues to show the Mercy of God and the maternal tenderness of Mary in her land.