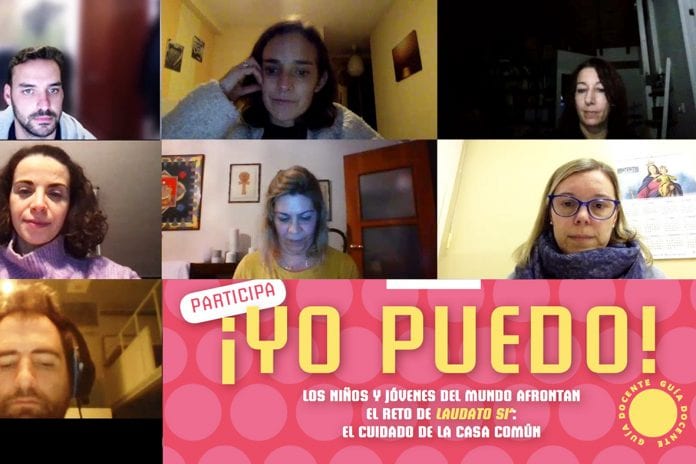 Madrid (Spain). On 20 January 2021, more than 30 educators from the Schools of the Daughters of Mary Help of Christians of the Spanish Province of Mary Help of Christians (SPA) participated in the 2nd  online meeting on methodologies for Service Learning and the "I can" Project.
"I can, We can" is the  World Educational Project inspired by the Encyclical Laudato sì to take care of our 'common home' and improve the environment in which we live, through the implementation of projects or stories of change.
The path, coordinated by the Provincial Commission of Schools, starts from the assumption that Educators and Referents of the Centers are the channels that motivate and help to implement the methodologies learned by students in the school curriculum, which give back to the community through a confident and creative service, becoming the protagonists of the process of improving the environment. Children and young people are the hope of the world, as they have the power to transform reality to improve it.
The meeting began with the resumption of the main points of the Global Educational Pact, to which Pope Francis invites you to join. In the Message for launching  the Educational Pact, Pope Francis states: "A further step is the courage to form people willing to put themselves at the service of the community. (…) In this perspective, all institutions must allow themselves to be questioned about the aims and methods with which they carry out their formative mission."
Subsequently, the experiences and methodologies implemented in the realities of the FMA Schools and the material of the Service Learning, edited by the Edebé Publishing House, in the drafting of which some educators of the SPA Province are collaborating were shared. These are Orientation Guides that reflect concrete proposals developed starting from the curricula of the subjects of the Primary and Secondary School, up to Service to the Community, which leads to the implementation of these projects. Finally, Don Bosco University Center in Madrid presented the practices relating to the Service Learning that university students bring to schools, both in the Community of Madrid and in other communities.
The meeting allowed the participants to share experiences and feel encouraged by the positive environment that has been created, thanks to the spirit that drives the Salesian educational-evangelizing mission to grow in knowledge of the methodologies, in line with the Preventive System of St. John Bosco and the pedagogy of the care of St. Mary Domenica Mazzarello.