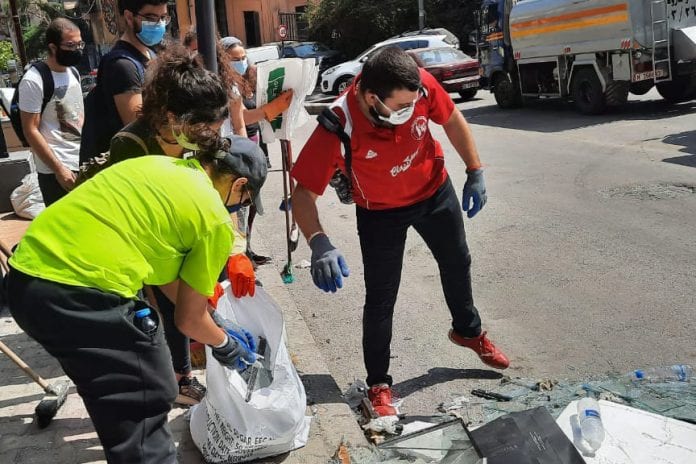 (Lebanon). On 4 August 2020, the port area of Beirut was hit by multiple explosions that destroyed the port and hit the entire country of Lebanon. Over 200 victims, more than 6,000 injured, and about 300,000 people who have been displaced and are in need of help.
The Province of Jesus Adolescent of the Middle East (MOR) joined in prayer for Lebanon, for the victims and for the families who have lost everything: home, family, work and future. Together with the Educating Communities, they have helped with various initiatives to support families.
An FMA relates: "The Kahhale Community is the closest to Beirut. FMA, Salesian Cooperators, and Oratorians immediately got to work. They split into two groups and went to Beirut. One group prepared sandwiches for people in need and the other group joined other volunteers from the Churches to clean the streets full of rubble due to the explosion".
 The Salesian Cooperators launched an initiative "A coffee for the Middle East" to raise money and help people. The Community of Mary Immaculate Help of Christians of Kahhale is helping 10 families in the repair of houses, doors, and windows that have been destroyed.
In Mary Help of Christians Community of Kartaba, 3 young firefighters who worked in Beirut died after the explosion. The FMA in Kartaba organize meetings and moments of prayer with families and for families to support them; they assist and care for children and adults with cancer who are unable to travel to Beirut for treatment.
The three schools run by the FMA in Lebanon are supporting families by decreasing school fees, assuming the poverty caused by the economic collapse, which increased after the explosion in the Port that had repercussions on the whole country. Unemployment in Lebanon has reached more than 50% of the population and the Lebanese pound currency has lost value against the dollar by 80%. Poverty is turning into misery, despair, distrust of government institutions.
There is a need for new hope and for a more dignified life, to rebuild a country already tried so much by invasions and wars.