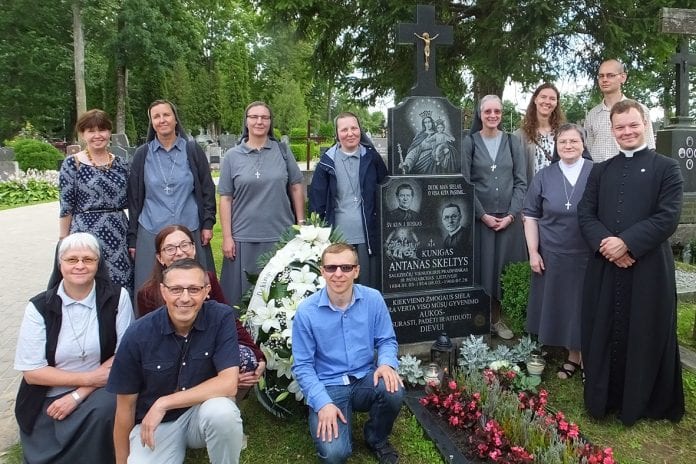 (Lithuania). The Daughters of Mary Help of Christians have been present in Lithuania since 2010 in two communities belonging to the Province of Mary Immaculate of the Czech Republic and Lithuania (CEL): the Community of St. John Bosco, in the city of Kaišiadorys, and the Community of Mary Help of Christians, in the city of Kaunas .
The FMA in Lithuania are 7, divided into the two Communities. The Community of Kaunas (Palemonas) mainly manages two works: the internship for students and the Day Center for children at risk. In addition, the FMA teach religion in state schools, carry out parish catechesis in preparation for the Sacraments, and other support activities in the parish. In the Kaišiadorys Community, one FMA is a state school teacher, while the other two sisters take care of catechesis and parish and diocesan activities.
The presence of the Salesians of Don Bosco and the FMA in Lithuania is linked to the figure of Fr. Antanas Skeltys, the first Lithuanian Salesian of Don Bosco. On 25 July 2020, the Lithuanian Salesian Family met in Griškabūdis, the town where he is buried, to celebrate a day of remembrance and gratitude on the occasion of the 60th  anniversary of his death.
Eager to become a priest and learning of Don Bosco, the young Antanas was invited by the SDB to go to Turin, where he studied and became a Salesian in 1906 – welcomed by Blessed Fr. Michele Rua – and was ordained a priest in August 1914. Not being able to return home because of the outbreak of the First World War, he worked in the houses of Verona and Este, in Northern Italy, where he founded the Lithuanian edition of the Salesian Bulletin. As soon as conditions permitted, he returned to Lithuania, where he opened the first SDB work with the vocational school and the internship and, subsequently, the FMA arrived.
Great is the gratitude for his educational and pastoral work, still remembered among the inhabitants of Griškabūdis. The solemn Holy Mass was presided over by Cardinal Sigitas Tamkevičius, who as a child served as an altar boy to Fr. Antanas, while Bishop A. Poniškaitis, his relative, SDB priests present in Lithuania, the parish priest of Griškabūdis concelebrated along with Fr. Martynas Povylaitis who coordinated the celebrations.
The commemoration at the tomb of Fr. Skeltys was an intense gathering moment for the representatives of the Salesian Family in Lithuania: SDB, FMA, Salesian Cooperators, as well as relatives and faithful who knew him.