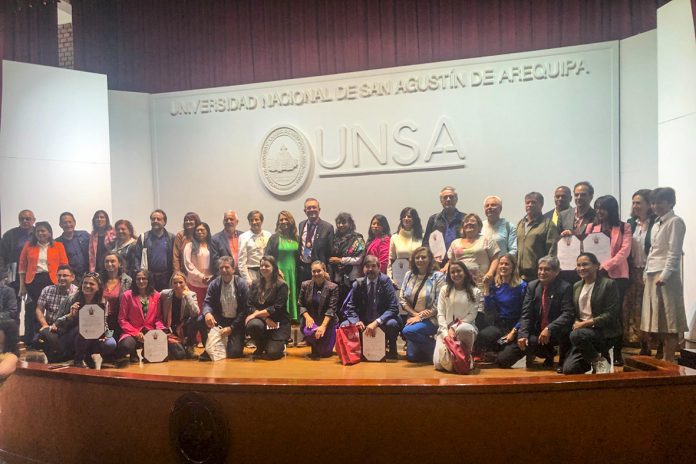 Arequipa (Peru). From 26 to 28 October 2022, the IV International Congress of the Interuniversity Network of Iberian America ALFAMED took place in Arequipa, Peru, an organization that brings together more than 240 researchers from 19 Iberian countries to promote spaces for strengthening, academic research, study, production, and dissemination of media education. The activity of this Network focuses on the field of communication and education, seeking to promote media literacy among citizens in dialogue with different areas of knowledge.
"Social networks and citizenship: cyberculture for learning" was the theme of the IV Congress, with more than 30 presentations including conferences, simultaneous round tables and group work, attended by more than 70 speakers from over 20 countries.
Among the key speakers were Ignacio Aguaded, Director of Comunicar magazine and president of Alfamed from Spain; Joan Ferres and Alfonso Gutiérrez from Spain; Fernando Gutiérrez from Mexico; Octavio Islas from Ecuador; Alexandre Le Voici from Brazil; Gabriel Kaplún from Uruguay; and Teresa Quiroz from Peru.
As Dr. Ignacio Aguaded expressed, the objective of the Congress was "to articulate various educational initiatives in view of the formation of more critical and responsible citizens, in a media world where the pandemic has accentuated the importance of screens in daily life, in education, in personal and inter-social relationships, and in the recreational space".
The event was also attended by a Daughter of Mary Help of Christians, Sr. Marcia Koffermann, from the Our Lady Aparecida Province (BAP), a PhD student in Social Communication at the University of Huelva in Spain, who in her discourse presented the experience of the Salesian Network of Brazil (RSB) regarding the Salesian Forum for the Global Educational Pact held in 2021 in the Brazilian Salesian Schools, and spoke about "Schools and teachers facing the social networks – Cyber-consumption and critical education", illustrating a part of the research she is conducting during her PhD in Educommunication.
During the days seven thematic areas were explored: Prosumers (instagrammers, youtubers, and tiktokers); Social networks and school; IT citizenship, ethics, and values; Media literacy and teacher training; Audience and critical cybernetic consumption; Democracy and alternative communication; New trends: Fake news, datafication…
The Congress was also rich in experiences of socialization, opening up to new collaborations, sharing knowledge, and strengthening Iberic-American thought in an educational, critical, and regenerating perspective in view of the construction of a more human and fraternal society, where every person is valued and respected in her/his multidimensionality.