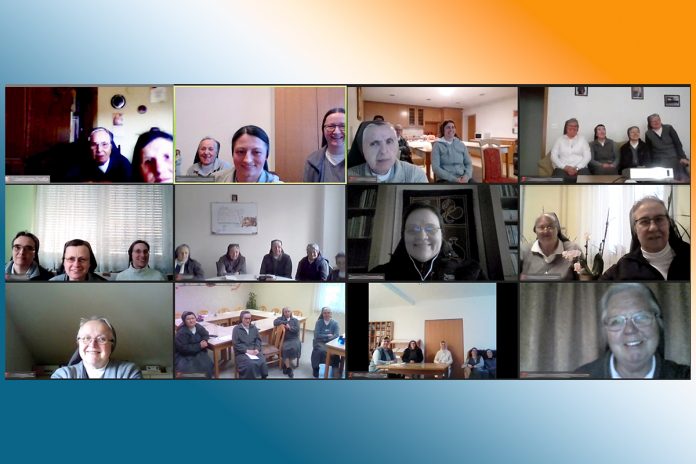 Slovenia-Croatia. On 16 March 2022 the Daughters of Mary Help of Christians of Mary Help of Christians Province of Slovenia and Croatia (SLC) experienced an online meeting of Educommunication, to make a wise reading of the current scenario, characterized by digital communication and in particular by social networks, starting from the Acts of the XXIV General Chapter, which speak of being a presence that listens in the digital age:
"As an educating community, we favor communication formation to inhabit digital environments in a conscious and responsible way, to learn about the dynamics of information culture and develop a critical and creative mentality" (No. 19).
The Communication Coordinators of the Province, Sr. Zrinka Majstorović and Sr. Barbara Močenik, presented to the sisters the document Guidelines on the presence of the FMA in social networks – elaborated by the Sectors for Communication and Formation of the FMA Institute – highlighting the educational and evangelizing functions of communication, to be promoted as an Educating Community, to generate messages that generate life.
"The world of new media today is a challenge for our Salesian and Christian lifestyle." "As a Province, we have had important experiences, even during the time of the pandemic, relating to contact with young people." "We understand the current importance of placing ourselves in social networks as FMA educators," are some of the resonances that emerged from the participants.
"What would Mother Mazzarello invite us to do?"  asked the Provincial, Sr. Marija Šimenc in her concluding intervention; "To live our life in depth, inviting us to continue to reflect on the possibilities and limits of the digital world from an educational perspective."
"The challenge is, therefore, to make the Educating Communities, and especially the young people, active subjects and competent interlocutors, digital citizens committed to witnessing evangelical values in the contemporary world" (Guidelines on the presence of the FMA in social networks, p. 23).