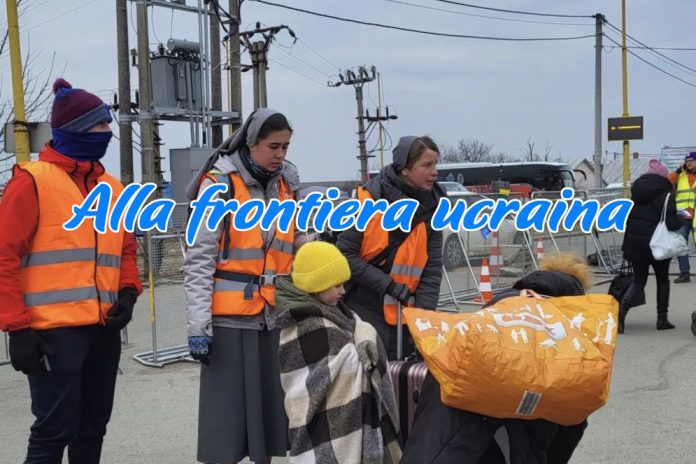 Slovakia. In a video, three young Daughters of Mary Help of Christians from the Province of St. John Bosco (SLK) recount the experience of 8 days of volunteering at the Vyšné Nemecké border between Slovakia and Ukraine.
"Those people tell very powerful stories", says Sr. Elen, referring above all to those who come from Kharkov or from other cities completely destroyed by the bombings. "I try to remember some of them, but in eight days they are too many." Among the boys and girls who arrive with their mothers, the reactions are different: silence and reserve, or the desire to express themselves decisively, like little 8-year-old Dima, who would like to become President to guarantee peace for all.
"It is important that children and young people know that war and violence do not go well, that it is terrible that civilians die," observes Sr. Elen with the look of a Salesian educator, and continues to tell how difficult it was, especially at the beginning, seeing the suffering and anguish of mothers without being able to give them all the security they needed. In addition to first aid, "it will also be necessary to think about psychological support, so that they do not become prey to those who can take advantage of their fragility."
"This is a great gift for me," Sr. Martina begins. "The reason I'm here is to let people who arrive experience a little closeness, to make them feel that God loves them, despite everything that is happening."
It is a team effort of the FMA and other volunteers: those who know the languages best try to identify the needs and direct people to those who accompany them to what they need – a SIM card, a place to stay overnight according to the destination, the bus stop…
"They are a great example for me," confides Sr. Martina, "and it is powerful to see how they long to stay in Ukraine and cannot do it, or when mothers arrive with their children and do not know where to go, what to do."
On the other hand, it is consoling to see how many people are willing to help, providing accommodation, a means of transport, taking care of those who arrive … Several young people, like the FMA, have spent their spring holidays – in early March in Slovakia – volunteering, offering what they had and knew how to do.
"Why am I here? As soon as I learned about this situation, I wanted to help and since I speak Russian, I thought I would be useful," says Sr. Lamiya. She too was very impressed by the stories of the people that she heard first being the closest to the border with the task of interpreter.
There are many signs of hope and generosity, "I saw the incredible dedication of the people, the volunteers who are here – young people, the elderly, doctors, soldiers, policemen, many people – each one helps as much as they can. I know everyone cannot be here, but I think everyone can help from wherever they are."
Some young volunteers with the Civil Protection also appear in the video, "There are many heartbreaking stories," says one of them, "Many people from Ukraine who are welcomed see us as little angels and we are happy to be able to help."
The video shows what is offered in the rescue area: clothes, strollers, toys and other goods, tents in which to rest and wait for arriving relatives or means of transport, spaces for the kitchen and for medical aid … an entire village of solidarity.
The experience for the three young FMA ends, while the gratitude for what they have lived remains: for the stories and faces that they will always carry in their hearts and in prayer, and for the prayerful support received from the Communities and from those who knew they were involved in the task of being a friendly presence and a sign of hope for those who have lost everything.
"Let us not tire of welcoming generously, as we are doing: not only now, in the emergency, but also in the weeks and months to come" (Pope Francis, Angelus 20 March 2022).
I think we are in a Kairos, a favorable time that the Lord offers us to give the best of ourselves. This situation forces us to become an 'outgoing Church' and a 'field hospital', as Pope Francis says. For us it is a school of life. Despite the drama we are experiencing, there are many lights and we want to be signs of hope for the refugees, for the volunteers, and among us FMA.
The Institute of the Daughters of Mary Help of Christians continues to offer the possibility of sending contributions and offerings, through Donate now or through the methods indicated on the FMA Institute website, designating the Ukraine Emergency in the causal.
See also: