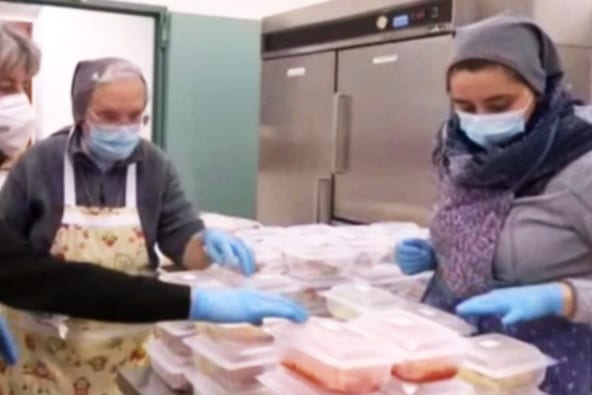 Pisa (Italy).  On 31 December  2020, the Daughters of Mary Help of Christians of   Mary Help of Christians Community of Pisa – Province of Emilia Liguria Tuscany – Our Lady of the Cenacle (ILS) – participated in a solidarity network to offer the end-of-year dinner to 30 needy families in the city.
The initiative,  born from  St. Thomas Association in Ponte, a volunteer organization that works in response to the poverty and fragility of young people and families in difficulty, involved various associations, volunteers, producers, and suppliers who collaborated in preparing and delivering  the take-away bags with the New Year's Eve Dinner for some families reported by the local Caritas, a total of 93 people, including 14 children.
To contribute to a new year of hope, the FMA made time and energy available, in addition to the kitchen and spaces of the Mary Help of Christians University College, collaborating in the solidarity event born with the dual purpose of making themselves close to those in conditions of economic and social suffering (families, restaurateurs, lonely people) and to create a virtual network for those who usually live voluntary activities, this year conditioned by the Covid-19 pandemic.
The 'grand dinner', prepared with generosity and competence and served at home, became a means to form new relationships and to build bridges between people. The families were joined in their homes by the volunteers, with the mandate not only to deliver, but also to share time and to listen, especially to those who are most alone.
At the same time, at the long table of the virtual platform, everyone sat at the same table at the same time, like a grand dinner all together.
For the FMA, the 'grand dinner on the net' was an opportunity to experience solidarity in the Community and with the volunteers  open  to the area, and to close the year 2020 with a simple service that turned into a joyful experience of collaboration with other charitable realities.