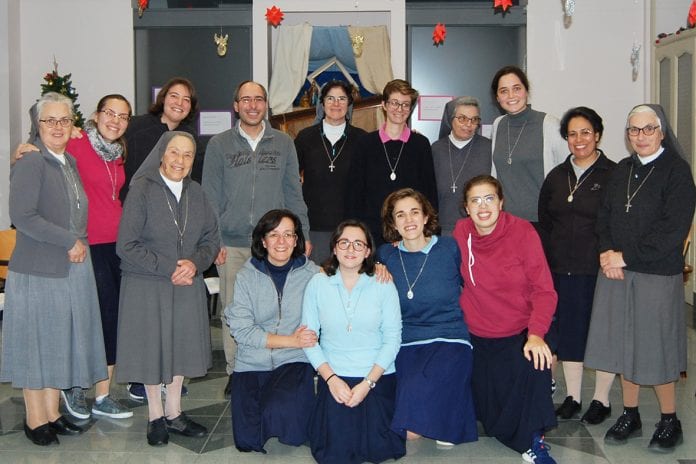 Castelgandolfo (Rome).  The Novices and Daughters of Mary Help of Christians of the  International Novitiate Community "Mary Help of Christians" of Castelgandolfo, Roman Province of St. John Bosco (IRO), challenged by the realities of poverty in the area, engaged in dialogue with Caritas of Albano (Rome) to offer  charitable service during the Christmas holidays.
Since the beginning of the Covid-19 pandemic, the Community has collaborated with Caritas by preparing about fifty meals distributed by workers twice a month. The need to stay at home due to health provisions, led to the decision to pack a bag of homemade cookies accompanied by a greeting card for the  families reached monthly.
"We imagined the expressions of our distant, mostly unknown recipients; their surprised or unexpected expressions in front of a gesture that is so simple and gratuitous for us, but which we hope will convey the newness of the One who, small and poor, draws near to the least and to everyone," the Novices stated.
Hope is the theme that accompanied the FMA Community during Advent through testimonies like that of the Director of Caritas Diocese of Albano, Rome, Fr. Gabriele D'Annibale, who illustrated the charitable reality that arose to respond to the various situations of poverty in the area, born of an interweaving of the dreams of the Pastors that have guided the Dioceses.  Challenged by the intuition of Paul VI who wanted Caritas as an organization not only for assistance, gave life to a work in which the entire person is taken care of, valuing their desire for a full life.
These are testimonies made up of stories which are not limited to giving and receiving, but rather authentic sharing of life and experiences.  Little lights of hope that are lit in the area and tell how even in the darkest nights,  they shine and continue to bring the warmth of closeness.