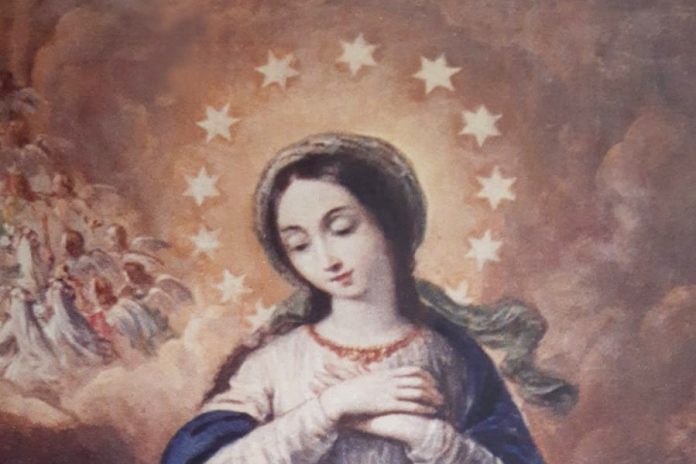 Rome (Italy). The Novena of the Immaculate Conception from 29 November to 7 December 2021,  inserted in the time of Advent, prepares the expectation of God who becomes man. Mary, the "full of grace" becomes a welcoming womb to be the Mother of the Savior and mother of us all, a sign of hope for all humanity.
In the Salesian tradition, the celebration of the Solemnity of the Immaculate Conception is particularly significant in the life of Don Bosco and the Salesian Family, which commemorates the birth of the oratory on 8 December 1841, and of Mary Domenica Mazzarello who in Mornese with some young women,  consecrated herself to Mary as the Daughter of the Immaculate Conception.
The proposal of this year's Novena of the Immaculate Conception, shared by the Salesian Family Sector of the Institute of the Daughters of Mary Help of Christians after the recently concluded chapter event and close to the celebration of the 150th anniversary of the Institute (1872-2022), seeks to be an expression of "special gratitude to Mary for her living and efficacious presence during the preparation and implementation of the XXIV General Chapter and throughout the history of the Institute", explains Sr. Leslie Sàndigo, newly elected General Councilor for the Sector.
The Novena offered is in continuity with  GCXXIV, a time of grace and charismatic impulse which, as the Mother General of the FMA Institute, Mother Chiara Cazzuola, recalls in her Closing Discourse, "does not end today, but continues; therefore it is the time to go down from Cana to Capernaum, not alone, but with Jesus and Mary, to share life and mission together with the young people and the laity, to let God breathe in our existence and courageously face the challenges we will encounter." Mother Chiara therefore invites all the Daughters of Mary Help of Christians to entrust themselves to Mary, "so that she may help us to be women who know how to bring the new wine of hope into our history marked by so many sufferings and hardships, but blessed by the sweet Providence of the Father".
The proposal is divided into three points for reflection offered to the Communities in preparation for the Solemnity of the Immaculate Conception: the word, the gesture, and the gaze of Mary, drawn from the Conference held with the Chapter members on 17  October  2021, by Sr. Linda Pocher, FMA, Professor of Mariology at the Pontifical Faculty of Educational Sciences «Auxilium», on the theme, "Mary and the Institute of the Daughters of Mary Help of Christians – In the name educational identity".
The Councilor for the Salesian Family concludes the letter of introduction with the wish:
"May Mary help  to awaken in us  passion for Jesus and  educative passion; to let ourselves  be questioned by the challenges with a contemplative and prophetic gaze in order to be able to have an efficacious impact on the Church and society, together with the whole Salesian Family, through concrete educational actions".