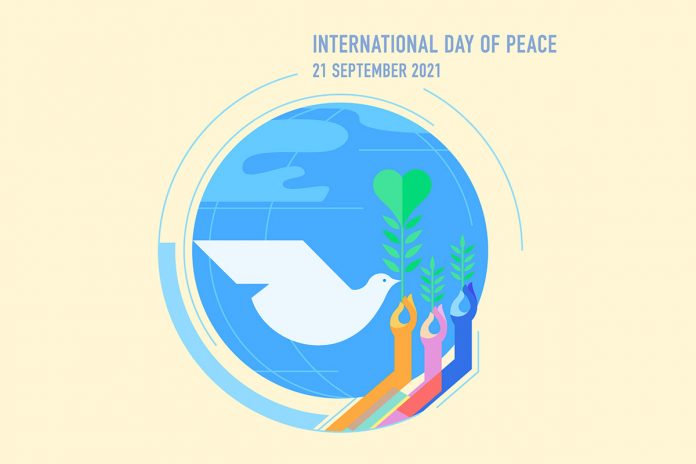 Rome (Italy). On 21 September 2021, the International Day of Peace is celebrated, established in 1981 by the General Assembly of the United Nations to end hostilities between countries and strengthen the commitment to peace, through educational and awareness-raising activities.
Since 2001, on 21 September, the United Nations invites all to a celebration of peace by observing a 24-hour ceasefire and non-violence. The Secretary General, António Guterres, has strengthened the call to focus on the global 'battle' of the Covid-19 pandemic and guarantee people involved in a conflict, treatment and access to vaccinations.
The 2021 theme for the International Day of Peace is "Better recovery for a equitable and sustainable world": peace is the foundation of recovery, as efforts to stop the pandemic cannot advance in the midst of armed conflicts. People involved in a conflict are, in fact, particularly vulnerable, due to the inability to access health care.
Another theme at the center of the 2021 Day, in the direction of "a more equitable and sustainable world", is the care of creation.  It is necessary to "make peace with nature" and take note of climate change, committing oneself to a sustainable economy  with productions that reduce emissions and impacts on the environment.
On 17 September 2021, in the online celebration of the young people for the International Day of Peace 2021 organized by the United Nations Department of Global Communications (DGC), the Secretary General of the United Nations addressed the students, encouraging them to continue their commitment to peace, solidarity, and the environment:
"You are leaders, responsible for change and advocates of societies. With your help, we can recover better and be stronger. We can transform economies and we can plant the seeds of peace and progress for our human family".
During the online celebration, some young Messengers of Peace from about 20 countries around the world, asked the Secretary questions and expressed their opinion on how to better recover from the pandemic and walk together towards a more just, equitable, and, sustainable world. The program also included testimonies of young people in situations of conflict or disadvantage, and educational paths to promote social justice and peace.
Pope Francis in his Message for Peace 2021, speaks of the 'culture of care' "as a common, supportive, and participatory commitment to protect and promote the dignity and good of all, as a disposition to take an interest, to pay attention, to compassion, to reconciliation and healing, mutual respect and mutual acceptance" which constitute a privileged way to build peace.
Involved in educational paths, young people are "artisans of peace" who, with ingenuity and daring, contribute to  healing  the world: "In many parts of the world, there is a need for paths of peace to heal open wounds. There is also a need for peacemakers, men and women prepared to work boldly and creatively to initiate processes of healing and renewed encounter" (Pope Francis, Fratelli Tutti n.  225).