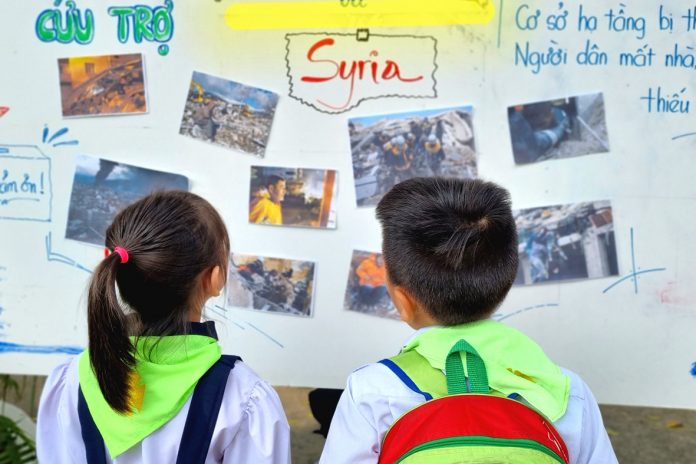 Tam Ha (Vietnam). On 12 and 13 February 2023, the Educating Communities of Tam Ha, of Mary Help of Christians Province (VTN), experienced moments of prayer, communion, and solidarity with the populations of Turkey and Syria who are suffering from the serious consequences of the earthquake.
"It's time for compassion, it's time for solidarity. Enough with hatred, enough with wars and divisions that lead to self-destruction. Let's unite in suffering, let's help those who suffer in Turkey and Syria, let's build peace and fraternity in the world".
On Sunday 12 February 2023, in response to the appeal of Pope Francis and of the Mother General of the Institute of the Daughters of Mary Help of Christians, Sister Chiara Cazzuola, who invites to prayer invoking the special protection of Mary Help of Christians on the people affected by this calamity, the three FMA Communities of Tam Ha: St. Joseph, Mary of the Assumption, and Sacred Heart Novitiate along with pupils, groups of young people, and catechists, united in the Celebration of the Eucharist praying for the suffering brothers and sisters and for the victims .
On the same day, the Tam Ha Oratory contributed with solidarity initiatives to alleviate their suffering with simple material gifts and economic contributions for the concrete needs of the people, motivated by the Word, "whatever you did for one of these least brethren of mine, you did for me" (Mt 25:40). Some children, when they heard the invitation to contribute, brought all the savings from their piggy banks to send them to populations in difficulty.
When asked, "How did you feel when you heard about the earthquakes in Turkey and Syria?" one child replied: "I don't know how to describe it, but I love them so much!" From the sincere words of the children, it emerges how they perceive intimately the pain of brothers and sisters so distant geographically, yet so close in spirit, because we are all brothers and sisters.
On 13 February, during the Good Morning of the Linh An Kindergarten, of Assumption of Mary Community, the teachers shared with the kindergarten children the suffering of small children who have lost their homes, parents, and loved ones, inviting them to pray and share their feelings.
Again, as a sign of solidarity, the sisters and teachers of Thai Van Lung Middle School of St. Joseph Community showed the suffering of the earthquake to the students through images and videos. Then with the children, they celebrated a moment of prayer for Turkey and Syria.
"He remembers, does not forget the cry of the afflicted" (Ps 9:13). With this conviction, the FMA and the Educating Communities of the VTN Province continue to offer God prayers, sacrifices, and concrete help, in the hope of being able to alleviate the suffering of these populations a little.