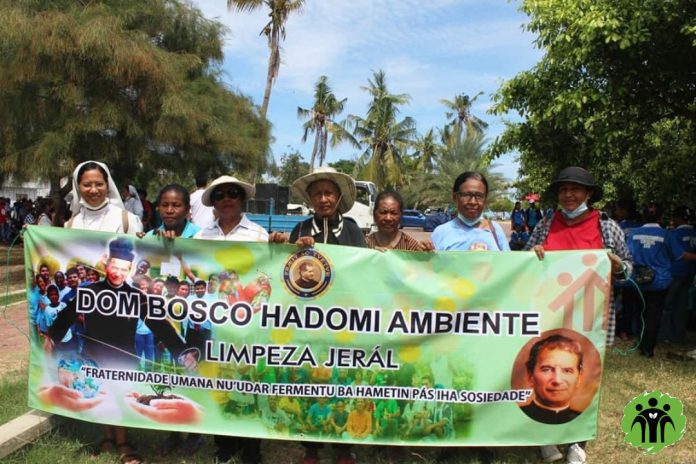 Dili (Timor East). On 21 January 2023, various members of the Salesian Family of Dili, pupils of the Schools run by the Daughters of Mary Help of Christians of St. Mary D. Mazzarello Province (TIN) and by the Salesians of Don Bosco, Past Pupils, young people of the formation houses of the FMA and SDB, and people of good will gathered in an atmosphere of joy and solidarity with activities to clean up the city of Dili starting from their own neighborhoods.
"Dom Bosco hadomi ambiente" – "Don Bosco loves the environment" – is the name of the initiative promoted by Don Bosco Past Pupils of East Timor with the aim of preparing to celebrate on 31 January, the Feast of Don Bosco, father, teacher, and friend of youth, with a visible sign on the territory.
Each Community and Group of the SF received the programming from the Organizing Commission, which divided the groups according to geographical areas: beaches, roads, green areas. The environmental cleaning activities are carried out to make a contribution to reducing global warming, which threatens our common home day after day, and to awaken in people the desire to contribute to a better future.
These activities are also supported by the initiatives of Don Bosco Green Alliance Movement International, an international platform launched in 2018 by the Institutions of the Salesian Family that contribute to global environmental actions, thought, and policies through the sharing of ideas and participation in campaigns, bearing witness to 'Love for Creation'.
The Daughters of Mary Help of Christians of Dili, with the Postulants, Novices, and the girls of the school, participated all together so that the Salesian Family initiative would constitute a witness for all the citizens who, especially in Dilli, have not be sensitized to an ecological commitment and, as a result, the city is dirty and disorderly.
"Don Bosco loves the environment" initiative was successfully implemented also thanks to the support of the national and local authorities of Dili and the national police of East Timor. The participants were thus able to spend a day together demonstrating as "good Christians and honest citizens" love and care for the common home as Don Bosco wanted.