Santiago (Chile). On 22 January 2023, the Community of the Daughters of Mary Help of Christians of St. Gabriel Archangel Province (CIL), members of the Salesian Family, members of the Blessed Laura Vicuña Foundation, and numerous pilgrims gathered at the Sanctuary of Renca, on the slopes of Cerro Colorado, to give thanks to God for the life and holiness of Blessed Laura, on the day of the anniversary of her birth into heaven.
The Eucharistic Celebration was presided over by Msgr. Alberto Lorenzelli, Salesian of Don Bosco, Auxiliary Bishop of Santiago, and concelebrated by the Provincial of the CIL Province, Fr. Carlos Lira Airola, SDB. For the occasion, the Mayor of Renca, Mr. Claudio Castro, and the Mayor of Lampa, Mr. Jonathan Opazo were present, with whom the FMA network, especially in the works that the Foundation carries out in the Municipality of Renca and in different areas, in collaboration with various civil institutions.
In his homily, the Bishop, taking up the day's Gospel, said: "God does not call to follow him in an extraordinary place, but in the workplace, in the midst of occupations, in our communities, in our school. Evangelizing is the center of the mission of the Church and an indispensable part of our following of Jesus. The quality of our Christianity can be recognized by the evangelizing zeal. All this was understood very well by Laura Vicuña, whose Feast we celebrate and commemorate today.
Her love for God and for Mary led her to be involved in the conversion of her mother, to the point of offering her life to God so that she might live holily and abandon her conduct. A life that embodies the Word and is filled with meaning. This is what the seriousness of the Word implies. The Word must be lived seriously because it speaks of something serious. Like the disciples of Jesus, Laura too responded promptly to the Word of the Lord."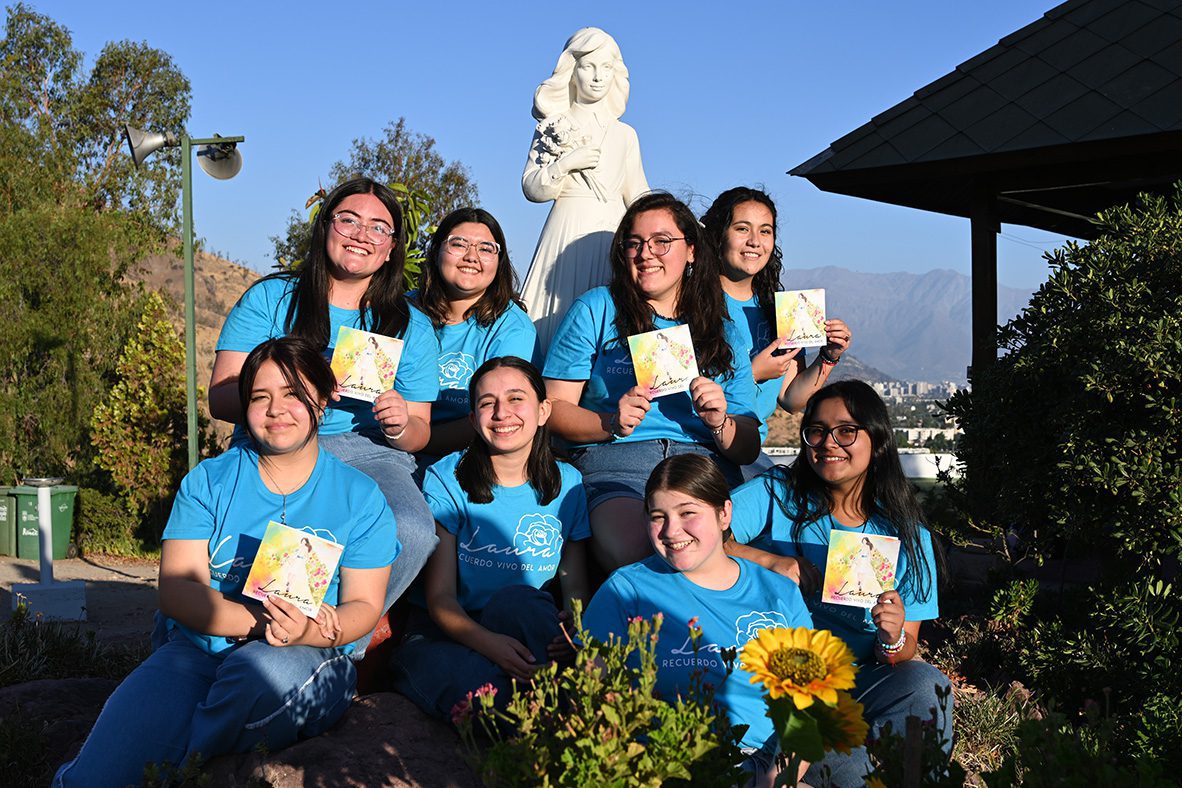 Celebrating Laura's holiness is an occasion to praise God who calls young people to holiness. For this reason, the youth network "We are Laura today" – www.somoslaurahoy.cl – embellished this beautiful day of celebration through an artistic expression, with the launch of the musical album "Laura, living memory of love," created and interpreted by a group of young people. Sr. Ximena Oyarzo Mansilla, Provincial of the FMA in Chile, thanked the young people for their creativity, depth, and love for the Blessed originally from Chile.
The album wants to be, as the title says, a living memory of the love that Laura lived in her encounter with God and with her brothers and sisters. You can listen to all the songs on Spotify by going to the FMACHILE profile or by clicking this Link.