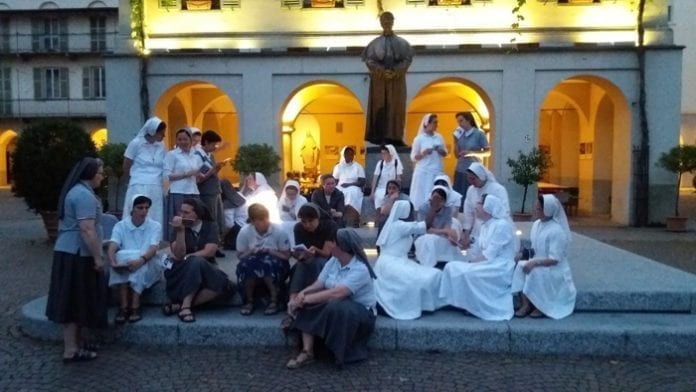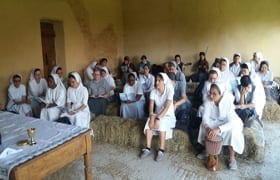 Torino-Mornese-Nizza (Italy). From 1 to 28 July 2018, in Turin, Nizza, and Mornese, 26 young FMA from 4 continents began the process of formation in preparation for perpetual vows.
In Turin and its surroundings, Fr. Enrico Lupano guided them to discover the Salesian places revisited in the light of the vocational journey of Don Bosco in which each one was able to reread her own vocational journey. The path began from the top of the dome of the Basilica of Mary Help of Christians "Mary did everything", from where history can be re-read. Time was marked by visits, reflections, personal meditations, silence, and lively moments of fraternity. Fr. Cristian Besso offered a Lectio Divina on the Magnificat and we encountered in an unprecedented way the figure of Countess Giulia Barolo. The Mass celebrated in the presbytery of the Basilica of Mary Help of Christians concluded this first experience.
In Mornese and its surroundings, we were guided by Sister Ivana Milesi, FMA. Here as well, there was time planned for visits, reflections, personal meditations, silence, and lively moments of fraternity. The Mass at the Shrine of Gavi, and the visit to Genoa from where the first missionaries left, the stop at Valponasca and the Roverno, the meeting with Sister Elena Massimi to study the formula of perpetual vows, filled the days and enriched them with content. They helped us to feel more and more Daughters of Mary Help of Christians and to recognize ourselves in the experience of the strong and authentic entrustment of Mother Mazzarello.
The Spiritual Exercises were lived in Mornese in an atmosphere of continuous silence. The exercises were led by Fr Erino Leoni, SDB who proposed reading of the Cycle of the prophet Elijah as a reflection. At this time the Councilor for Formation, Sister Nieves Reboso was present. She very simply joined the group and shared a piece of the journey with us. The exercises ended with the renewal of the vows in the presence of the delegate of Mother General, Sister Elide Degiovanni, Provincial of Piedmont. The Eucharistic celebration took place in the original Chapel where Mother Mazzarello and the first sisters became FMA's.
In Nizza Monferrato, we made a short visit to encounter Mother Mazzarello in her last stage of life and to touch the expansion of the Institute that started from Nizza. Back in Turin, the journey ended with a time for evaluation.
Each stage was marked by beautiful and meaningful encounters with communities and people who made everyone feel at home. Thanks to everyone for their availability and simplicity in living the experience, above all in the desire to be together as a group, as a fraternal community.