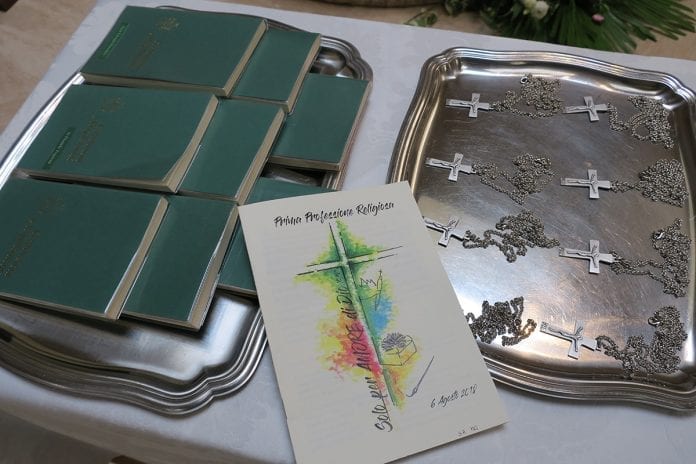 Rome (Italy). On 6 August 2018, at the Salesian Parish "Saint Mary of Hope" in Rome, eight novices of the International Novitiates, "Mary Help of Christians" in Castel Gandolfo, and "Sister Teresa Valsè Pantellini" in Via Appia, Rome made their first profession in the Institute of the Daughters of Mary Help of Christians. The professed belong to the Italian Provinces of ILO, ISI, ILS, IPI, ITV, and to the Eastern Europe / Georgia Preprovince (EEG).
The Solemn Eucharist was presided over by the Provincial Fr. Leonardo Mancini, SDB. Sr. Chiara Cazzuola, Vicar General and Delegate of the Mother General of the Daughters of Mary Help of Christians, M. Yvonne Reungoat, welcomed the Professed into the Institute of the Daughters of Mary Help of Christians. Present were the FMA and SDB Provincials, Parents, and young people. The FMA and SDB novices animated the liturgy and singing.
With their religious profession, the Professed reminded those present that they not only have a glorious history to remember, but a great story to tell: they left everything to follow Christ on the path of the evangelical counsels and witness to the young the wonders God accomplishes in those He loves.
In his homily, Fr Leonardo retraced the stages of the journey of consecration to Christ, inviting the professed women to clothe themselves in Christ's attitudes and remain faithful to His love.
In the liturgical feast of the Transfiguration of the Lord, the newly professed by reading the formula of profession, sealed the covenant of love with Christ, living with Mary, for the evangelization and education of the young entrusted to them in the communities where they are sent.
The Vicar welcomed each one into the Institute and gave them the Constitutions, symbol of the spousal Covenant with Christ, and the Crucifix, sign of the centrality of Christ in their own life and witness of fidelity in a life consecrated to the Lord for the salvation of the young.
The celebration concluded with the words of gratitude of the Professed to their families, communities, formators, and all those who accompanied them in realizing God's plan for their lives. Sister Chiara then praised the Father for the gift of vocations, thanked the parents for having given their daughters, and wished each sister to remain faithful to Christ, the Church, and the Salesian charism to build fraternal communities and give their contribution to the transfiguration of the world.