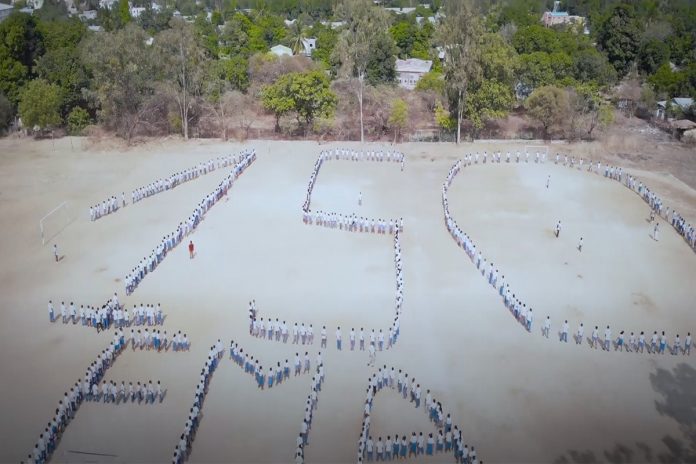 Mahajanga (Madagascar). The FMA Institute continues the journey towards the 150th anniversary of the FMA Institute. The Community Mary Queen of the Angels of Mahajanga of Mary Source of Life Province of Madagascar (MDG), accepting the invitation for the 3rd Year of Preparation for the 150th anniversary of the Foundation of the Institute of the Daughters of Mary Help of Christians (1872-2022), "Planning the future with daring", and urged by the words of Mother Mazzarello, "Courage! Let us go forward with a big and generous heart" (L 47,12),  have made two videos with children and young people to testify to the beauty of life and fidelity to the Salesian charism.
Each community of the MDG Province is committed to looking for times and ways to carry out vocational animation activities involving the Educating Communities and, above all, young people. Mary Queen of Angels Community of Mahajanga (MDG), on 8 December 2021, showed the videos made with the young people.
The official hymn for the 150th anniversary of the FMA Institute aroused great enthusiasm and involved everyone, children and young people, in an experience of growth in the family spirit. The certainty of knowing that Mary is a close presence who accompanies and supports us strengthened the relationship between students and professors, and unity with the Community. Children and young people learned the song, pronouncing the words very well in different languages and, to the festive rhythm of the music, they witnessed with their joy the beauty of being together, of giving everyone a smile.
Mary walks in each of our Houses. A certainty that always gives us courage, especially in the difficulties that may pose challenges in the mission, the various relational and social contexts, infirmities. Mary walks in each of our Houses. A certainty that gives us joy, makes us welcoming and loving, daring. Ours is an Institute that belongs entirely to Mary, therefore courage and trust (Mother Chiara Cazzuola, 8 December 2021).
The young people also made a video about the 150th anniversary Logo.
Logo in the Malagasy language.