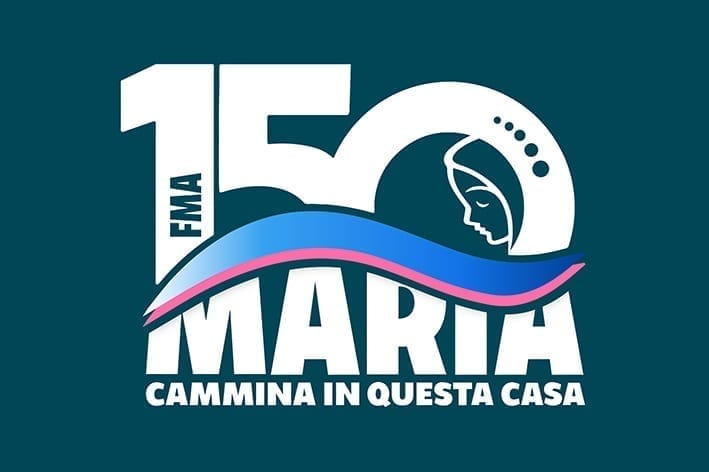 Rome (Italy). Mary walks in this house:  is the slogan proposed for the Celebrations of the 150th Anniversary of the Foundation of the Institute of the Daughters of Mary Help of Christians (FMA) and is the same one chosen for the Logo created by Maria Fernanda Bastidas Zapata, a young girl belonging to the Province of Mary Help of Christians of Medellin (CMA) Colombia.
54 proposals were received from 27 FMA Provinces of the world, showing a sense of belonging and desire to get involved in the great event of the 150th. The evaluation committee, made up of FMA, lay people, and young people, expresses gratitude to the participants for all the work carried out. After careful analysis and sharing with the General Council, the choice is made known of the Logo for the 150th anniversary.
Maria walks in this house: is the slogan visible in the Logo, in which the name MARIA remains unchanged, while the rest of the phrase is translated in the four languages – English, Spanish, French, Portuguese – to be applied in the various Countries.
The phrase takes up the words said by Don Bosco in 1885, in the house of Nizza Monferrato (AT), Italy: "The Madonna walks in this house and covers it with her mantle" (cf. Cronistoria V, 51-52), and is accompanied by a blue and rose graphic element representing the mantle of Mary.
The Logo accompanies the Triennial of preparation for the 150th of the Foundation of the FMA Institute (1872-2022), officially opened by the Mother General of the Daughters of Mary Help of Christians, Sr. Yvonne Reungoat, on 5 August 2019, in the rooms of Mother Mazzarello at Mornese (AL), Italy.
Maria Fernanda Bastidas Zapata is a Past Pupil of Mary Help of Christians School of Medellin (CMA) and a member of the Salesian Youth Movement.  She frequents the Degree in Advertising Communication and works in the team of the Ministry of Youth, as a Graphic Designer.  She expresses her motivation for entering the contest for the Logo: "I wanted to participate in designing the Logo, to represent all that I have learned by being in the Salesian Family and in this way, I was able to unite myself to the great Celebration of the 150 years of the Foundation of the FMA Institute."