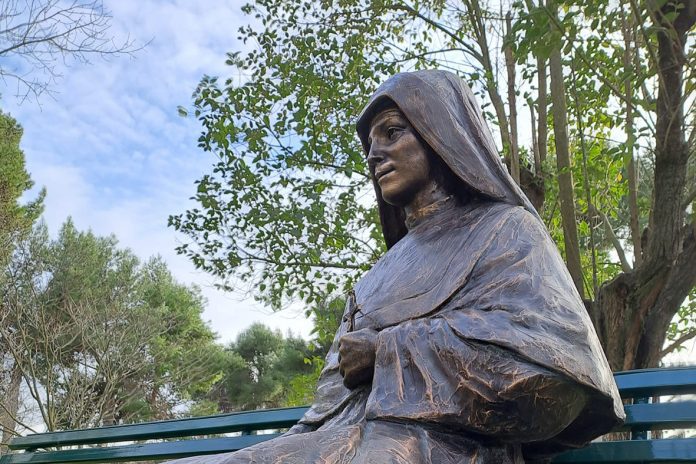 Rome (Italy). Saint Mary Domenica Mazzarello, whose Solemnity the Salesian Family celebrates on 13 May, in her mission as Co-foundress of the Institute of the Daughters of Mary Help of Christians, handed over to her daughters and to those who share the educational mission with them a precious legacy which can illuminate today's challenges. Among these, the most urgent and disregarded remains that of peace. What can the Saint of Mornese say about it?
Reading the text of the Letters of Saint Mary Domenica Mazzarello, the word peace occurs twice.
The first time, in one dated October 1876 and addressed to the Director General Fr. John Cagliero, in which she thanks him for the letter received and gives news of the house in Mornese. She writes thus, "First, I feel I must tell you that up to now there has always been peace and cheerfulness here along with the good will on the part of everyone to become holy and I thank God for this. To tell you the truth, I am amazed and embarrassed when I see all these daughters always so cheerful and serene. It is clear that despite my great unworthiness, our dear Mother Mary Most Holy, Help of Christians really gives us great graces" (L. 7,2).
With the realism that characterizes her, Mary Domenica does not take for granted the climate that reigns in the community, but attributes it to the active intervention of Mary Help of Christians. If her concreteness leads her to recognize the difficulties, faith allows her to rejoice in seeing "the fruit of the Spirit is love, joy, peace, magnanimity, kindness, goodness, faithfulness, meekness, self-control" (Gal 5, 22) in the community she animates. She well knows that this happens precisely through the work of God. In the community, just as in the family, different situations and characters put peace, communion and joy at risk every day, which therefore, can never be considered definitively achieved.
On the other hand, "the good will to become holy in everything" and the "great graces" that Mary Help of Christians gives enable us to overcome every obstacle. Mornese and then Nizza Monferrato were not communities exempt from relational problems and conflicts, even of a certain importance. The Chronicle of the Institute of the FMA recalls:
"Despite so much fervor of prayers and works, there is no shortage of reasons for restlessness and unease in the community, due to the always rather difficult living conditions." Discontent spread and so "We must run to remedies, and above all implore them from heaven. Therefore Mother, having heard from the director that Don Bosco, in similar cases, had arranged to have the whole community say a Hail Mary for peace in the house, decided on this important addition to the daily prayers. Our Lady, as true superior, will provide. For her part, Mother does not fail to speak of the need to be humble and submissive. She reminds about this above all in the Sunday conference, to which she is very punctual, and during which she wishes that each of them freely says what she thinks is useful to the house and to souls" (Cronistoria, II 143 – 144).
In addition to prayer and exhortations, it is necessary to give space to each one, to encourage them to express themselves, to invite them to become co-responsible in building the community. But there were problems in other communities as well. In 1880, the Founder wrote to Don Bosco, "The Vicar, Sr. Caterina went to pay a visit to Saint-Cyr, where there seems to be some small matters to sort out, nothing significant, you know. I wish they would let her come back to me soon.  I need her to help me with the Sisters and the schools" (L. 48,9). In fact, Sr. Caterina Daghero, elected Vicar General in August 1880, had been the previous superior. When another one was nominated in her place and sent, she was not welcomed by the small and young community.
In October, Mother writes a letter to the Sisters and affirms, "Look, at times our imagination shows us everything as being very black, while it is really all white, then such things cause us to be cold in our dealings with our superiors and little by little we lose confidence in them.  Then what happens? We make life miserable for ourselves and for the poor superior.  A little bit of humility can put everything right. Give me this consolation soon, my dear Daughters. Love one another with true charity, love your superior, look upon her as though she were Our Lady and treat her with all respect (L 49,2)".
 The secret of peace is the humility with which to recognize that certain situations are also the fruit of one's "imagination" or projection, as today's psychology would say. Only a courageous and constant discernment allows one to reach the truth about oneself and a more objective vision. On the other hand, to live more authentic relationships, a serene atmosphere and the courageous commitment of each one on the path of conversion is necessary.
The word peace then appears in a letter dated December 1878 addressed to the Superior of the House of Montevideo-Villa Colón, Sr. Angela Vallese. "Be cheerful and don't be so afraid of your defects and of not being able to correct them all at once. Little by little, with the good will to fight them, never making peace with them once the Lord makes them known to you, do your part to correct yourself.  You will see that sooner or later you will overcome them all. Courage then, have great confidence in God and a good sense of self-contempt, and you will see that all will go well" (L 17,4).
This is one of the Mother's most frequent recommendations, always combined with an invitation to cheerfulness based on trust in Grace. It is the secret of communities that have left an indelible mark on the lives of many young people by becoming "peacemakers" with them.