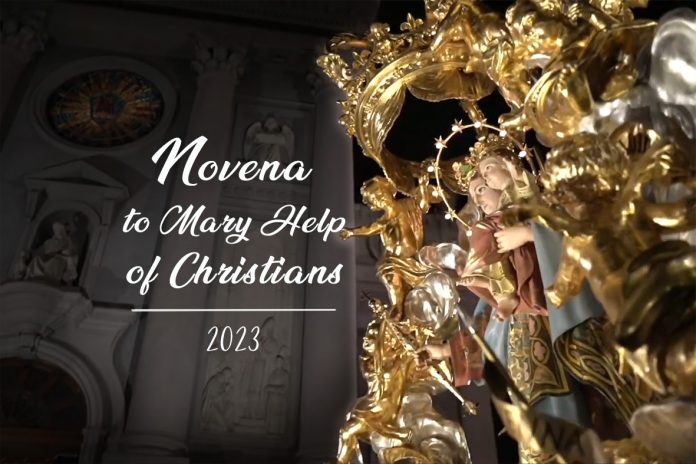 Rome (Italy). In preparation for the Solemnity of Mary Help of Christians, which is celebrated on 24 May 2023, the Salesian Family is united in the prayer of the World Novena, from 15 to 23 May 2023.
This year's proposal, entrusted by the Rector Major of the Salesians of Don Bosco, Fr. Ángel Fernández Artime, to the group of the Salesian Family of Past Pupils of Don Bosco, is inspired by the theme of the Strenna 2023, "LIKE YEAST IN THE HUMAN FAMILY OF 'TODAY. The lay dimension of Don Bosco's Family" and focuses on the humanity of Mary, who illuminates and accompanies this dimension of the Salesian Family.
"We will allow ourselves to be led by the stimulating reflections of Fr. Tonino Bello, the late and courageous Bishop of Molfetta. In Mary, Fr. Tonino found a true, sincere, complete, and fulfilled humanity, a humanity that lives and understands ours. Even more, a humanity that is the mother of ours, on the path of living the love of the Lord in the service of the least, the little ones, those who suffer, and those in need," explains Fr. Ángel in the trailer.
In each video, lasting approximately 8-9 minutes, different moments will alternate: a reflection by the Rector Major on the theme of the day; a story that deepens it, written by Fr. Bruno Ferrero, SDB, Director of the Italian Salesian Bulletin; the testimony of a Past Pupil of the Salesians of Don Bosco or of the Daughters of Mary Help of Christians of different origins, ages, and backgrounds; the final prayer of invocation to Mary, inspired by the writings of Fr. Tonino Bello whose 30th anniversary of his birth in heaven occurs  this year. Moreover, at the end of each video, there is an overview of the sanctuaries dedicated to Mary Help of Christians all over the world.
Mary woman of bread, Mary woman of daily life, Mary as courageous, in love, without rhetoric, with silence. These are some of the aspects of the Virgin, among those highlighted by Fr. Tonino in the book "Mary a woman of our days", which will be explored during the nine-day journey and will guide the members of the Salesian Family, the Educating Communities, and the devotees from all over the world in preparation for the Solemnity of Mary Help of Christians.
The videos, made by "IME Comunicazione srl", will be accessible in in Italian, English, Spanish, French e Portuguese in the various linguistic channels of ANSChannel and on TELEGRAM SDB.ORG. Each video will be made visible one day in advance. The first videos will be public on May 14th.
The booklets, elaborated in five languages, can be freely downloaded on the institutional site of the SDB Congregation.