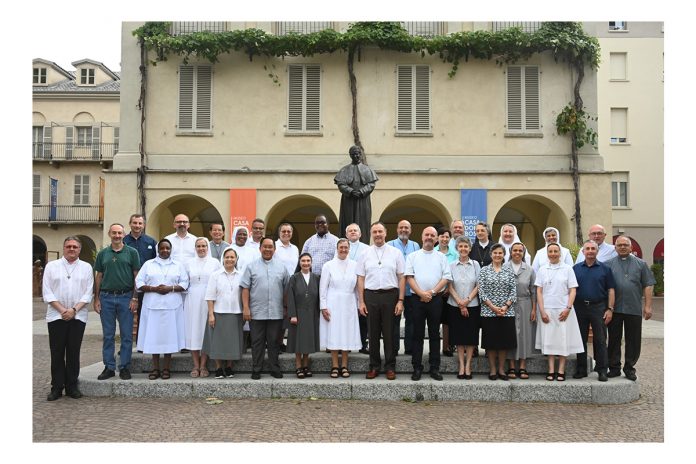 Turin (Italy). Welcome, fraternity, sharing characterized the meeting lived by the General Councils of the Salesians of Don Bosco and the Daughters of Mary Help of Christians on the afternoon of 23 June 2022 in Valdocco, Turin, in the places where "Don Bosco thought and suffered for his children under the gaze of the Help of Christians, who continues to 'walk' in our environments and still supports our educational mission today."
With these words, the Rector Major of the Salesians of Don Bosco, Fr. Ángel Fernández Artime, opened the dialogue and gave the floor to the Superior General of the Institute of the Daughters of Mary Help of Christians, Mother Chiara Cazzuola, and to the sisters of the General Council for the presentation of the Program for the six-year term 2022-2027, arising from the choices of the XXIV General Chapter on the theme: "With Mary, be a 'presence' that generates life".
Subsequently, the Salesians and the Daughters of Mary Help of Christians went together to the Don Bosco House Museum, the new complex which aims to care for and enrich the Salesian historical, cultural, charismatic, and spiritual heritage. Led by Fr. Enrico Lupano, SDB, Responsible for welcoming pilgrims, they visited the numerous rooms with interest, or rather, they went back in time to relive the world of Don Bosco, retrace his steps, listen to his heart, feel his paternal presence.
The journey ended inside the Basilica of Mary Help of Christians, with the recitation of the First Vespers of the Solemnity of St. John the Baptist, the name day of Don Bosco and, by Salesian tradition, the feast of the Rector Major. For this occasion, Mother Chiara extended her most sincere wishes to Fr. Ángel and transformed them into prayer, that the Lord may support his difficult mission with His strength.
At the end of the prayer, in the Salesian Goodnight, the Rector Major underlined the centrality of Christ and the value of essentiality in the life of consecrated persons. He spoke of fidelity to Don Bosco's charism which generated so many Saints within the Salesian Family; the witness of Mother Mazzarello on the 150th anniversary of the foundation of the FMA Institute; the ability to transmit to young people the love for Christ that those who live the Salesian charism carry in their hearts.
The beautiful evening ended with a moment of conviviality and the exchange of gifts. The notes of the song "It is more beautiful together" intertwined the desire of the two General Councils to consolidate more and more the bond that unites them and the sense of mutual gratitude.