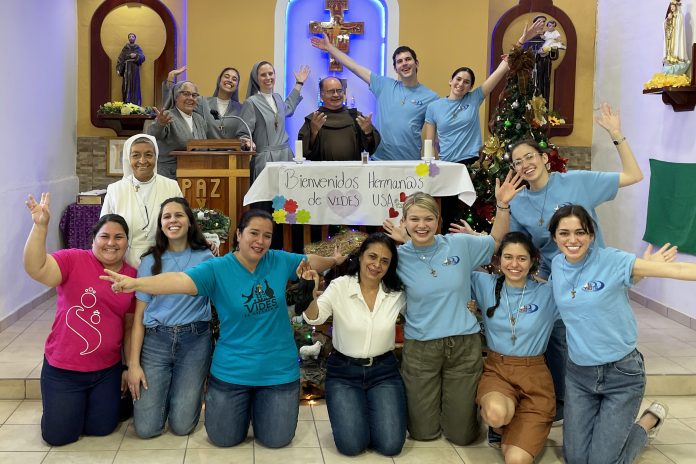 San Antonio (United States). To celebrate the 25th anniversary of VIDES USA, from 27 December 2022 to 3 January 2023, a group of seven volunteers with Sr. Sydney Moss, Director of VIDES USA, and Sr. Melissa Benitez, from Mary Immaculate Province (SUO), undertook a missionary experience in Soyapango, a city in the eastern part of San Salvador.
Every Saturday, VIDES El Salvador volunteers visit the "3 de enero" (January 3) community of Soyapango to carry out activities with young people and their families. VIDES USA has financially supported their commitment in the past and, thanks to this relationship, the two VIDES groups have organized this 'Solidarity Camp'.
Volunteers from both Countries met several times on Zoom to plan the three-day mission, which included visiting families in their homes to pray with them, conducting arts and crafts activities, a series of games, celebrating the Eucharist, and sharing meals.
Carolina, a VIDES USA volunteer, said that the encounters with the people left her "astounded by the power of simply being visited" and made her "reflect on how God sees us and accompanies us." The experience allowed the volunteers to see that, even in the midst of poverty, the faith is very much alive and people are full of hope. Sija, another VIDES USA volunteer said, "This missionary experience changed my daily life and made it more meaningful and 'colorful'. Now I complain less and smile more!".
On their last day in El Salvador, the volunteers went on a pilgrimage to visit places related to the life of St. Oscar Arnulfo Romero. They visited the Cathedral of San Salvador, where he is buried, as well as the chapel and the house where he lived when he was killed on 24 March 1980. "The visit to St. Oscar Romero opened my eyes to the social injustices that many poor face all over the world and it has awakened in me a passion for social justice", commented Sr. Melissa.
The pilgrimage was the culmination of the period spent by the VIDES USA volunteers in El Salvador, who thanked the FMA Mary Help of Christians Community of Soyapango, San Salvador, where they stayed, and VIDES El Salvador for making this experience possible with the hope that the Mission Camp in Soyapango can become an annual event.