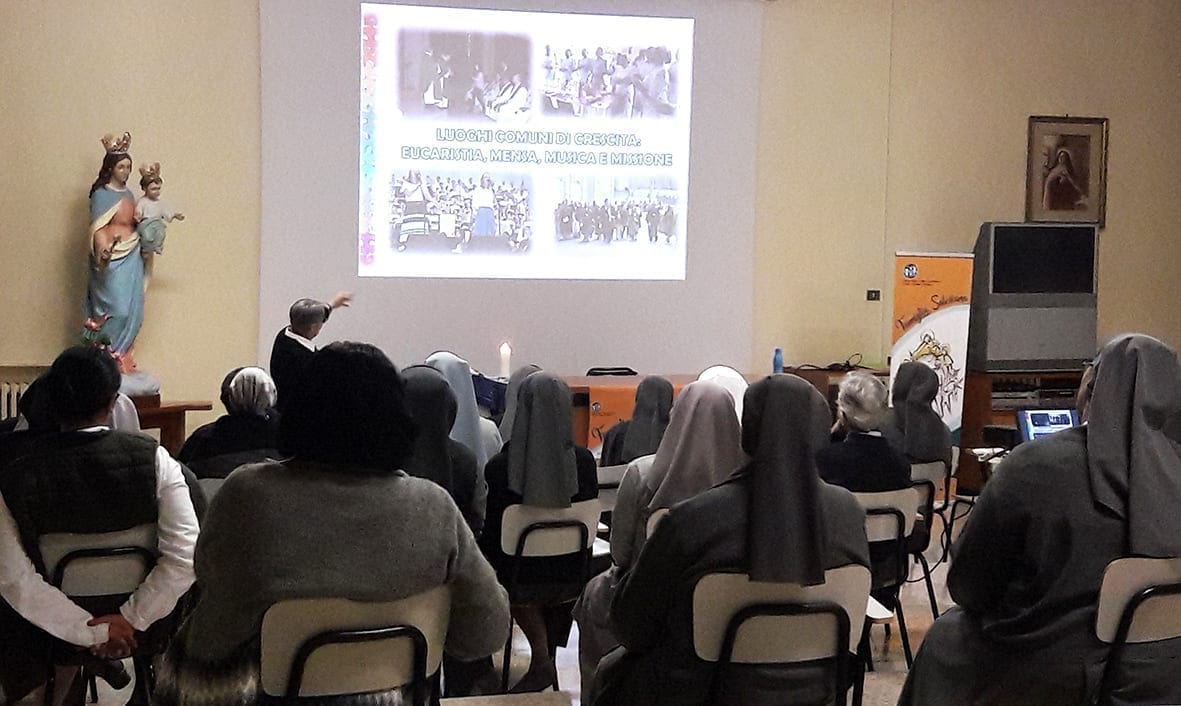 Rome (Italy) From 3 to 7 February 2020, the Community of the Generalate of the Daughters of Mary Help of Christians in Rome (RCG) was invited to deepen their knowledge of the Salesian Family. For five consecutive evenings in "St. Teresa's" Room, Sister Maria Luisa Miranda, Councilor for the Salesian Family, and her Collaborators, Sister Gabriela Patiño and Sister Leslie Sándigo, animated the meetings.
In the early evening, after a constructing a puzzle – with the piece that each of the participants received – depicting an image of the Salesian Family, Sister Maria Luisa Miranda proposed the re-reading of the dynamics, there was a Lectio Divina on the passage of Saint Paul (1Cor 12: 12-27) "Unity and diversity in the life inspired by the different charisms, given by the Holy Spirit."
In the second meeting, a presentation by Sister Maria Luisa Miranda and work in the groups allowed studying the theme: "Shared mission: from Valdocco and Mornese". At the end, a clip was shown of the TV movie of Don Bosco with Flavio Insinna, of the scene in which the Saint founded the Association of Salesian Cooperators.
In the third meeting, the presentation of the "Identity Card" of the Salesian Family by Sister Gabriela Patiño and listening in rotation to three groups presenting the three Associations of the Salesian Family.  Sister Leslie Sándigo presented the Association of Salesian Cooperators; Sister Maria Luisa Miranda presented ADMA; and Sister Gabriela Patiño presented the FMA Association of Past Pupils in the world. Listening was completed the following day.
On 7 February, at the last meeting, the reflection proposed by Sister Leslie Sándigo focused on the Profile of the Delegate of the three Associations through a multimedia presentation and a text delivered to all entitled: "New wine in new wineskins", the theme of GC XXIV . The profile of the Delegate is explained according to the different dimensions: human, spiritual, and Salesian, and is expressed through a lively sense of belonging to her own Institute: "Men and women of God, with a strong sense of the outgoing Church and identified with their own vocation and the Salesian mission, which animate, accompany and keep alive the growth effort of people and groups in the Salesian spirit." The importance of formation is underlined for an authentic process of transformation and change of mentality.
The evaluation questionnaires completed by the participants, show expressions of gratitude and satisfaction for deepening and maturing the awareness of belonging to a Family made up of 32 Groups that share the Salesian Charism, supported by a host of Saints, Blesseds, Venerables, and Servants of God. The Rector Major, Successor of Don Bosco, is the Center of Unity of the whole Family.
The conclusion is entrusted to Sister Maria Luisa Miranda, who expresses her gratitude for the presence and active participation of the Community that showed keen interest in the content proposed.