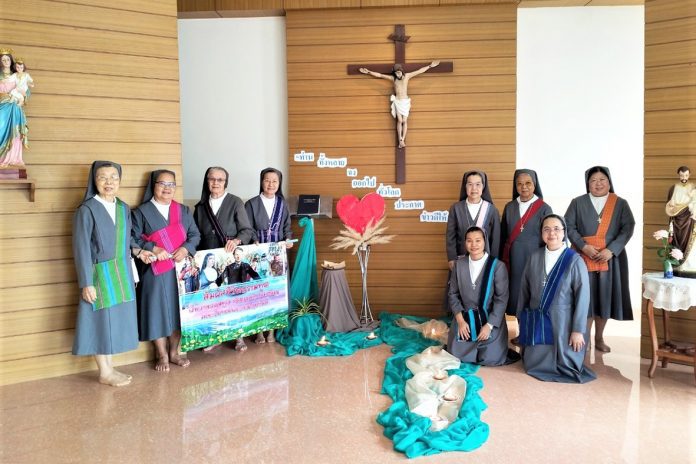 Chom Thong (Thailand). From 16 to 20 March 2023, the Coordinator of the Missions of St. Mary Mazzarello Province (THA), Sr. Pornpirun Chamdenduang, and seven Daughters of Mary Help of Christians who were local missionary animators, lived a missionary experience of exploring the area of Chom Thong, Province of Chiang Mai, close to villages belonging to an ethnic population of the place.
Arriving in Chiang Mai, they went to greet the Bishop of the Diocese, Msgr. Virà Arpornrat, at the diocesan Missionary Office, where they participated in a brief ceremony to open the experience.
They then visited the Doi Kaew Learning Center campus, run by the Brothers of Christian Education of St. Gabriel or GGabrielisti. With them, the FMA shared the experience of the inhabitants in helping them to plant coffee and cocoa plants, to filter the water to make it drinkable, etc. Each product is the result of the hard work of this mountain population, who give value to life through their work.
Sr. Adelaide Supertino, an Italian FMA missionary belonging to the Saint Joseph Community of Chomthong, shared the testimony of her simple life dedicated to the girls from the villages. Subsequently, Sr. Wilaiporn Temaroonrung, a Sister belonging to that ethnic group, presented a video on the history of the 'Thidarak' reception house and guided the missionary animators to learn about the activities of the house.
On the second day, the FMA visited the mountain, in the area entrusted to the ministry of the Religious Congregation of Betharam. They had the opportunity to pray with the villagers, to get to know them, and to reciprocate their smile and fraternal welcome.
On Sunday, they participated in the Via Crucis and in the Eucharistic celebration with the faithful, at the parish of St. Michele Garikois, in Chom Thong, the first house of the Community of Betharam built by the pioneer missionaries who later established the second apostolic work built on the mountain, the 'Mae Pon School', to give local children the opportunity to study and a safe place for their future.
The FMA missionary animators also had the opportunity to celebrate the Solemnity of St. Joseph, patron of the Thidarak House, together with the sisters of the Community and the young people.
The 'Thidarak' girls attend the town's schools and are formed by the Sisters, who carry out activities to promote women by offering them the opportunity for agricultural and culinary work, singing, music, musical accompaniment during celebrations, and in artistic expressions of gratitude.
At the conclusion of the experience of missionary knowledge in the field, the FMA thanked the Lord for His protection throughout the journey, the benefactors for the offerings received, and all the members of the 'Thidarak' House on whom God's blessing was invoked.
Photos: Flickr THAI