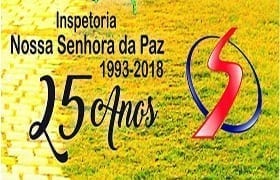 Cuiabá (Brazil). The Daughters of Mary Help of Christians have been present for 124 years in Mato Grosso, Brazil. The Province celebrated its Silver Jubilee, commemorating February 13, 1993, the day in which Our Lady of Peace Province was inaugurated in Cuiabá / MT (BCB), separating itself from Immaculate Ausiliatrice Province, Campo Grande / MS (BCG).
For the celebration of the event, there was lovely collaboration with the local nucleus of the Conference of Religious of Brazil / CRB-Cuiabá, which in the celebration recalled the 300-year-old encounter with the image Our Lady of Aparecida, to whom the mandate was given that the Pilgrim Madonna would visit the religious houses of the Congregations present in Mato Grosso. And the visit began precisely on the date of the Province of Our Lady of Peace in Cuiabá.
The Eucharistic celebration of Thanksgiving was presided by Archbishop Bonifacio Piccinini, SDB, Archbishop emeritus of the Archdiocese of Cuiabá and concelebrated by several priests. Former students, relatives, and friends of the Salesian Sisters participated in this celebration along with sixty-two religious from nine different Congregations, including nine Dehonian seminarians.
In these 25 years, INSPAZ has faced the challenges of the reality of this vast region and others related to today's society and to the Church in general. As part of the Institute, it shared the charism and the guidelines of the official documents, and the decisions of the General Chapters. Supported by the words of Pope Francis, for the youth and the reality, the Communities favor adequate processes to act on the diverse fronts of the mission, with the spirit of "Da mihi animas" and "I entrust you to them".
They are present in the four Dioceses of Mato Grosso and the state of Rondônia, with 10 communities and 60 Daughters of Mary Help of Christians.
Together with the laity, adults, and young people, the FMA carry out an educational mission in the diverse areas and with various means: schools, social services, parish, rural communities and ethnic groups, Bororo and Xavante.