Monterrey (Mexico). Holy Family Community of Mother of the Church Province (MMO), consisting of three Daughters of Mary Help of Christians coming from the Provinces of the Interprovincial Conference of Mexico, Antilles, and Central America (CIMAC) and of the North American Conference (NAC), began to insert itself into the mission in favor of migrants in collaboration with 'Casa Monarca' (Monarch House), the association of humanitarian aid for migrants.
Until now, it collaborated with the welcome and care of the migrants who ask for help, and are given the possibility of washing and dressing in clean clothes, of eating, and if they wish, of having access to legal counsel offered by lawyers.
The FMA are also participating in the project that Casa Monarca undertook with the High Commissariat of the United Nations for Refugees (UNHCR), where 50 to 160 persons are received every week. They dedicate themselves especially to the children to whom they offer a place for therapeutic games and scholastic assistance.
Both experiences provide the opportunity to be in direct contact with the people who are arriving in Mexico to seek new life opportunities or to continue their trip towards the United States of America.
Within these activities, on December 14, the FMA of Holy Family Community participated in the first 'Christmas Posada' for refugees organized by Casa Monarca in Monterrey.  Over 350 people participated between the adults, young people, and children who went to live in the city or in the suburbs last semester.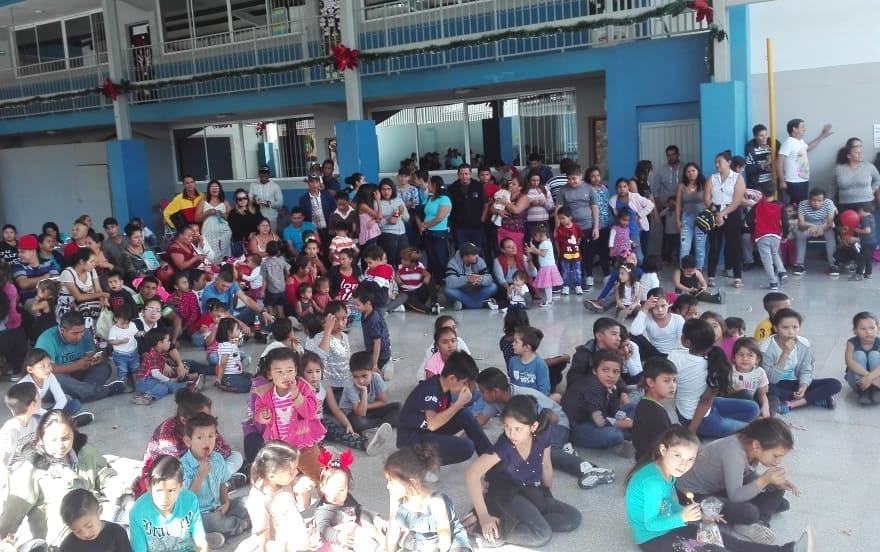 The 'Christmas Posada' is a traditional Mexican time of fraternal encounter in preparation for Christmas.  For this occasion, Sr. Maria Baudino FMA Community opened its doors and made available the gym of the Independence School of Monterrey.
Children and adults excited about this Posada Navideña in their honor, were welcomed and then enjoyed themselves watching a circus show. After this, the traditional song of the Posada took place in which those present identified themselves with the situation of Joseph and Mary who were looking for a place to stay in a city that was not theirs.
To continue the party, food was served for everyone, making sure that there were some typical Central American dishes that were much appreciated.
The traditional 'Christmas pots' could not be missing, in which about 150 children participated, joyfully collecting the candies that fell from above as prizes. Thanks to donations from some benefactors, toys were distributed to all the children, while the adults received blankets for their families.  All guests were able to enjoy a peaceful day with the local community in a family atmosphere.