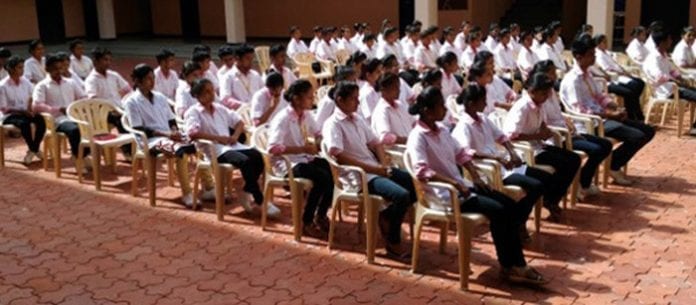 Bombay (India). The project for girls and boys was concluded in St. Mary Domenica Mazzarello Province of Bombay (INB). The initiative was promoted by the Office for Dialog and Ecumenism together with the Province of St. Mary Domenica Mazzarello of Bombay (INB), Sr. Meenakshi D'Silva, and the Community of the Youth Animation Center "Auxilium" of Dahanu.
The projects implemented were: bicycles for young workers, boys and girls, and a book for the blind.
Dahanu is a city on the coast. It is located 110 km from the city of Mumbai / Bombay. The most widely spoken languages ??are: Marathi and Sindhi, Gujarati and Hindi. Dahanu has become one of the major commercial and industrial cities in the Palghar district. It is very well known for chikoos and other products. It is a welcoming city, which has become a major tourist center.
Dahanu is rich in schools and universities. In each village there is a small school where a teacher holds lessons for all students, from grades 1 to 4.
In 2008, the Salesian Sisters opened a community in Dahanu. The Adivasis villages are located around the community. The Sisters give remedial lessons to students who are very involved and motivated.
The Adivasis are simple people who work hard to make a living. They are poor people; the boys are smart, but most of them are forced to leave their studies to work and have to go a long way to get to work. This is why the bicycle project was designed to facilitate movement from one place to another.
In October 2016, the Sisters began the Youth Assistant course. They too have many hours of practical training in various hospitals and have to walk a lot because other means of transportation are expensive.
The "Auxilium" Youth Animation Center was able to help the first group of 28 students (GDA) / General Works Assistants working in different hospitals both in Dhanu and Mumbai.
This is a tangible sign of solidarity, as stated in No. 16 of the Final Statement of the XXIII General Body Meeting CBCI: "work for the protection and integral development of members of the tribes and other categories of marginalized people (OBC's) and favor initiatives for the relief and wellbeing of farmers, fishermen, poor people, migrants, and other exploited communities, through caring, providing comfort and hope in their difficulty".