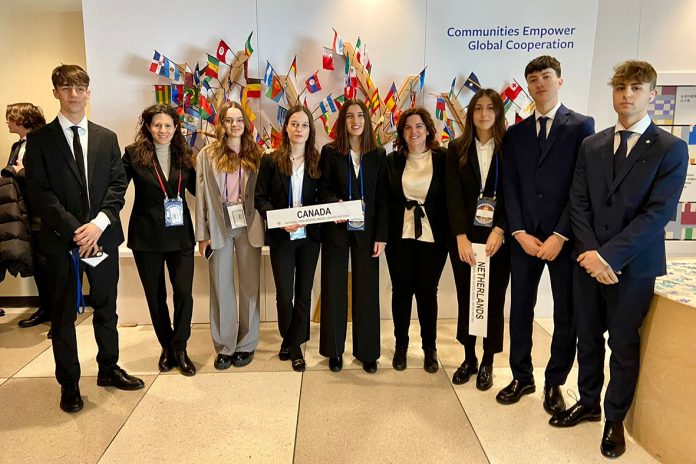 New York (United States). From 12 to 20 March 2023, a group of triennial students from the 2nd year Secondary School of Mary Help of Christians Institute of Lecco, of the Lombard Province of the Holy Family (ILO), accompanied by English-speaking teachers, participated in the NHSMUN project in New York.
The National High School Model United Nations (NHSMUN) consists of a diplomatic simulation at the United Nations, in which high school students from all continents are involved. Each pair of students is assigned a country in the world, of which they become delegates, within one of the UN Commissions. Here, they discuss current issues of international concern and try to formulate shared resolutions through negotiations and compromises, which will ultimately be voted on by all members of the Commission. If there is 50% plus one vote in favor of a 'resolution', the delegates who wrote it can be said to have fulfilled their duty.
This project allows students not only to improve their knowledge of English, the only language admitted to the Commission, but also to develop critical thinking about current issues, to become active global citizens, to learn to work in teams to achieve a goal common, to implement their negotiation, dialogic, and communication skills.
The opening ceremony and all five Working Commissions were held at the Hilton Midtown Hotel, while for the closing ceremony all students participating in the project had the opportunity to go to the United Nations Secretariat Glass Building, the UN Headquarters in Manhattan.
The days of intense work in the Commission alternated with visits to the city and its main attractions, such as the National September 11 Memorial & Museum Foundation, the Museum of the attack on the Twin Towers; the Statue of Liberty, Ellis Island, the 'Empire State Building, Museum of Modern Art (MoMA), Museum of Natural History, Central Park. Some of these visits incorporate parts of the school English curriculum.
The IMA Lecco students involved in the project were enthusiastic about this educational experience, which made them more aware of cultural and social diversity and of the importance of making their own contribution as citizens of the world.