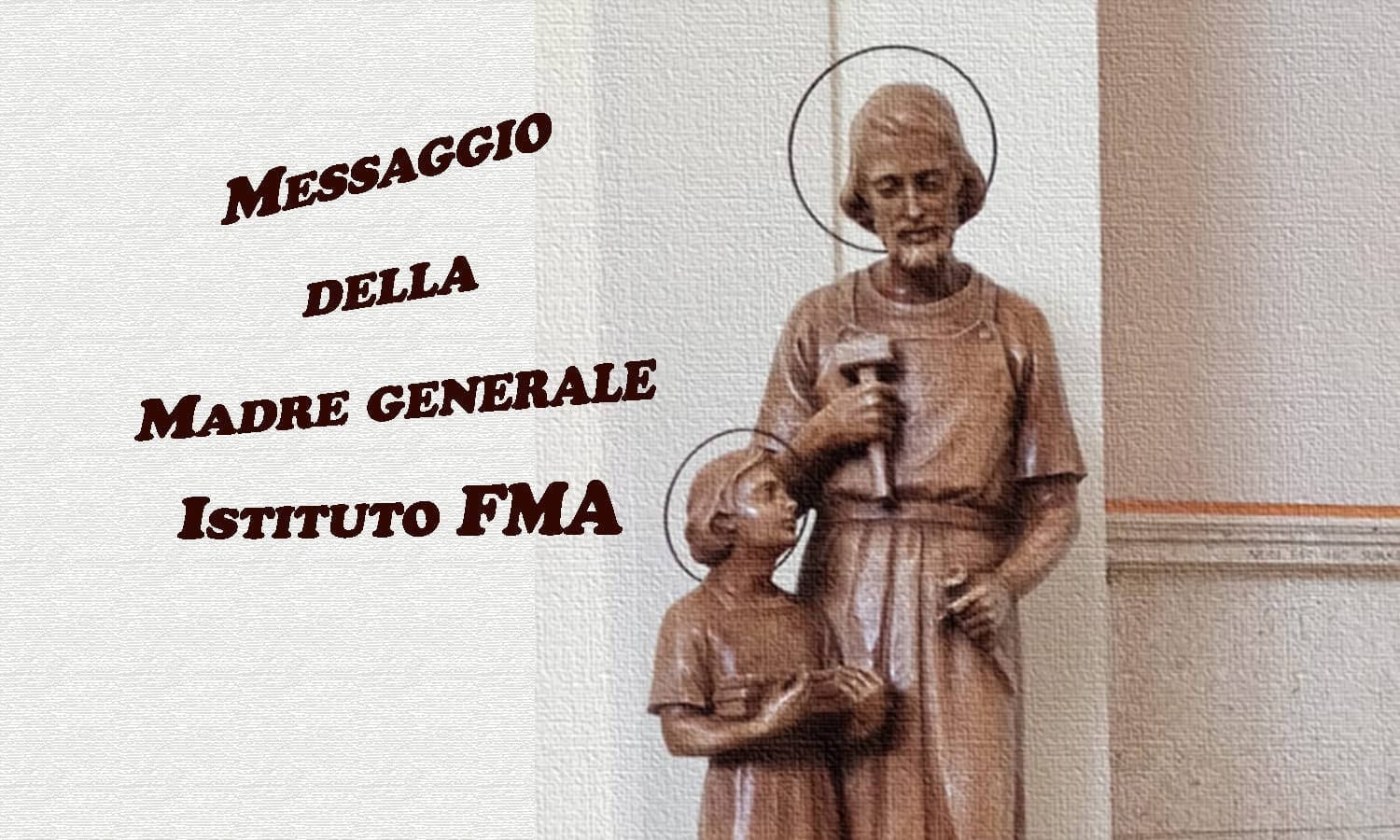 Rome (Italy). The Mother General of the Institute of the Daughters of Mary Help of Christians, Sister Yvonne Reungoat, on the occasion of the Solemnity of St. Joseph, Patron of the Institute sent a message to all the Educating Communities of the FMA Institute.
Her words are an appeal to create a prayer network in a difficult time due to the pandemic that hit the world; an invitation to live prayerful silence, to make small gestures of solidarity, and to invoke blessings for Pope Francis on the anniversary of his Pontificate.
"Dearest Sisters,
Tomorrow, 19 March 2020, we celebrate in communion with the universal Church and with the whole Institute, the solemnity of St. Joseph whom Don Bosco gave us as our Patron.
I invite you to create together a network of prayer, entrusting to Him all the intentions that we have at heart and there are many in this particular time of trial.  Let us ask Him to continue to keep alive in every Educating Community and in each of us, the commitment of preparation  for GC XXIV; to listen with a ready heart to the word of His Spouse who tells us, "Do whatever He tells you."
But in my heart there is an explicit request that I think is essential for you too: that He teach us to live prayerful silence as He did in the face of delicate, precarious, and humanly difficult situations. A silence that prepares us for a deeper encounter with the Lord, choosing times of personal and community prayer that allow us to 'hear' today the voice of the Lord who speaks to us and that makes us attentive to the serious situation the whole world is suffering, especially due to the coronavirus. We also pray for refugees who ask for welcome and are instead rejected and not respected in their dignity, for many brothers and sisters, victims of wars, discrimination, serious abuse, and injustice, for children and young people who do not know what it is to live in peace because they were born and raised in times of war. And many other intentions that we know directly and that, at times, we feel powerless to face and resolve. This is the time when all of us, with renewed hope and trust in God, can be a presence of intercession with prayer and with gestures of solidarity that creativity knows how to implement.
I very much appreciated the proposal of the President of the UISG – Sister Jolanta Kafka – to celebrate domenica  Sunday 22 March 2020 as a day of solidarity and prayer  all over the world for people affected by the coronavirus. I invite you to adhere to this proposal that puts us in communion with the religious scattered throughout the five continents and also offers us the opportunity to express gratitude for those who are on the front line to treat the sick and competently seek a remedy that will put end to this calamity.
On the Institute website you will find Sister Jolanta's invitation and so you can extend it, as far as possible, to other people. It is beautiful and important to create a network at this time, also through the novena to Mary Help of Christians, and to be small lights of hope that, through the intercession of Saint Joseph, can make us see a dawn of new life. We believe that the Lord of life and history speaks to us through unexpected events.
We also entrust Pope Francis to St. Joseph who tomorrow celebrates the anniversary of his Petrine ministry: March 19, 2013 – March 19, 2020. A time given entirely to the Church with love and for love. A surprising time of grace in which the Holy Father, through the testimony of life and the Magisterium, entered the heart of every person of good will, radiating hope and love towards God and towards the poorest sisters and brothers: the beloved ones of Jesus!
This year, the celebration of this anniversary falls at a serious moment for the whole human family because of the coronavirus and is certainly lived in a different way from the previous ones.  We were deeply touched by his 'pilgrimage' towards the Basilica of Saint Mary Major where he went to pray to Mary 'Salus Populi Romani' and, subsequently, to the Church of St. Marcello al Corso to implore, at the foot of the miraculous Crucifix, the end of this severe pandemic. His testimony is a source of hope for many sisters and brothers in this hour of trial.
The invitation to prayer that opens up to solidarity is an additional gift that Pope Francis gives us on his anniversary of Pontificate and is a light for the people of God entrusted to him.
In this time of Lent, we live in deep communion with the Holy Father and with all suffering humanity, and we feel accompanied by him to understand more deeply the Paschal Mystery that flows into the joy of the Resurrection. This desires to be our way to celebrate the anniversary of his ministry, assuring him that every day the Pope is present in our prayer and in our daily offering and that we do not let his heartfelt request fall on deaf ears: 'Please, do not forget to pray for me.'
Dear Sisters, this is what I felt in my heart to share with each of you and through you, with people sensitive to this event.
I wish you a good feast of St. Joseph and, together, we entrust to him the journey we are making in preparation for Easter."
Rome, 18 March 2020
Sr. Yvonne Reungoat, FMA
Superior General