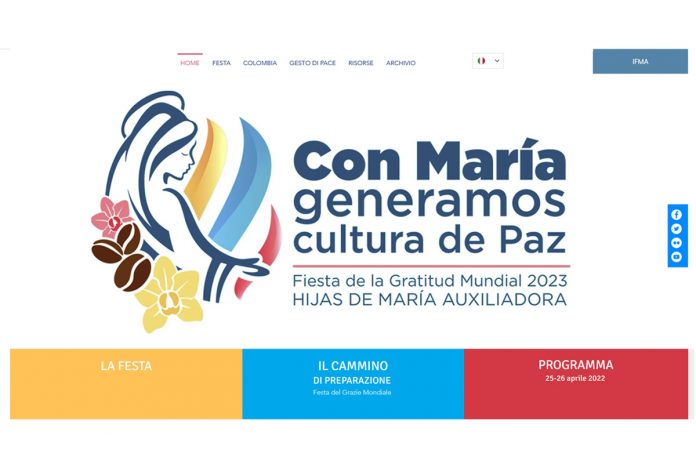 Rome (Italy). Online at the Web Site https://www.festadelgrazie.org is the Journey of preparation for the World Feast of Gratitude 2023 of the Institute of the Daughters of Mary Help of Christians, which will be celebrated in Colombia, Bogotá on 26 April 2023. It will be animated by the four Colombian Provinces: Our Lady of the Rosary Province of Chiquinquirá (CBC); Our Lady of the Snow Province (CBN); Mary Help of Christians Province (CMA); Saint Mary Mazzarello Province (CMM) with the theme:
"With Mary we generate a culture of peace"
In the In the Letter of the Vicar General, Sr. Maria del Rosario García Ribas, available in 5 languages in the Resources of the site, the theme is motivated as follows:
In such a delicate moment for the world in which peace is threatened in many ways, we want our celebration of Gratitude to be a song of peace and a call to the commitment to build it. The theme that is proposed to us, illumined by the Word of Jesus:
"Blessed are the peacemakers, for they will be called children of God" (Mt 5:9)
www.festadelgrazie.org, in two languages, Italian and Spanish, is a meeting place in which to network – FMA, Educating Communities, lay people, and young people of the Salesian Family to express gratitude to Mother Chiara Cazzuola and to prepare to live, with renewed enthusiasm, the charismatic event of the World Feast of Gratitude.
The website offers the resources to deepen the theme as Educating Communities, according to the three-week itinerary proposed by the Colombian Provinces:
1st Week (26 March – 5 April)    Peace in the inner home   (Salesian enlightenment)
2nd Week (6 – 15 April)             Peace in the welcoming home (Ecclesial Enlightenment)
3a Week (16 – 25 April)             Peace in the common home  (Biblical Enlightenment)
Each stage will be accompanied by the act of Entrustment to Mary proposed for this occasion and by the conscious prayer of the "Hail Mary for peace in the house."
To share with Mother Chiara and with the whole Institute the commitment to generate a culture of peace, each Province was invited to send a photograph that expresses some actions or ways in which they are contributing to build peace. On the Peace Gesture page of the site, all the photographs will be collected, accompanied by the caption that begins with the words: "We are generators of a culture of peace…".
The animation of the Feast is enriched by the social profiles animated by the Colombian Provinces: the Facebook page Grazie.fma and the Instagram profile grazie.fma, in addition to the YouTube Channel Festa del Grazie, where little by little, the Videos will be published and the live streaming will be transmitted from here.
"For us, the Feast of Gratitude is a very meaningful moment at the charismatic level,  that gives continuity and expression to the spirit of family and of gratitude so characteristic at Valdocco and at Mornese" (Circ. 1017).